Every year, Duke University Libraries digitizes thousands of items in our collections. These digital assets must be carefully managed to preserve them for generations of students and researchers to come. This work requires storage space, the specialized expertise of our talented staff, and you!
We need your help expanding our capacity to preserve Duke's digital collections! Our Adopt a Digital Collection program allows you to support the long-term preservation of these important cultural and scholarly resources, keeping them safe and accessible indefinitely.
Adoption funds are contributed to the Lowell and Eileen Aptman Digital Preservation Fund.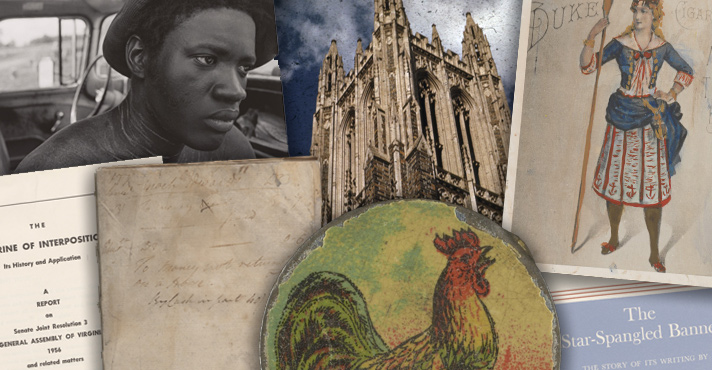 Adoption Process
Our adoptable collections are listed below. Simply follow the link to adopt! If you have questions, or would like to talk more about adoption options, please contact the Associate University Library for Development, the Associate University Librarian (AUL) for Information Technology Services or the Digital Collections Program Manager.
Blue Dean
AUL for Development
919-660-5940
blue.dean@duke.edu
Tim McGeary
AUL for Information Technology Services
919.660.5802
tim.mcgeary@duke.edu
Molly Bragg
Head, Digital Collections
919.660.5888
molly.bragg@duke.edu
Archive of Documentary Arts
Archive of Documentary Arts
Archive of Documentary Arts
Archive of Documentary Arts
Archive of Documentary Arts
Archive of Documentary Arts
Archive of Documentary Arts
Archive of Documentary Arts
Archive of Documentary Arts
Archive of Documentary Arts
Archive of Documentary Arts
Archive of Documentary Arts
Archive of Documentary Arts
Archive of Documentary Arts
Archive of Documentary Arts
Archive of Documentary Arts
Archive of Documentary Arts
Data and Visualizaton Services
David M. Rubenstein Rare Book & Manuscript Library
David M. Rubenstein Rare Book & Manuscript Library
David M. Rubenstein Rare Book & Manuscript Library
David M. Rubenstein Rare Book & Manuscript Library
David M. Rubenstein Rare Book & Manuscript Library
David M. Rubenstein Rare Book & Manuscript Library
David M. Rubenstein Rare Book & Manuscript Library
David M. Rubenstein Rare Book & Manuscript Library
David M. Rubenstein Rare Book & Manuscript Library
David M. Rubenstein Rare Book & Manuscript Library
David M. Rubenstein Rare Book & Manuscript Library
David M. Rubenstein Rare Book & Manuscript Library
David M. Rubenstein Rare Book & Manuscript Library
David M. Rubenstein Rare Book & Manuscript Library
David M. Rubenstein Rare Book & Manuscript Library
David M. Rubenstein Rare Book & Manuscript Library
David M. Rubenstein Rare Book & Manuscript Library
David M. Rubenstein Rare Book & Manuscript Library
David M. Rubenstein Rare Book & Manuscript Library
David M. Rubenstein Rare Book & Manuscript Library
David M. Rubenstein Rare Book & Manuscript Library
David M. Rubenstein Rare Book & Manuscript Library
David M. Rubenstein Rare Book & Manuscript Library
David M. Rubenstein Rare Book & Manuscript Library
David M. Rubenstein Rare Book & Manuscript Library
David M. Rubenstein Rare Book & Manuscript Library
David M. Rubenstein Rare Book & Manuscript Library
David M. Rubenstein Rare Book & Manuscript Library
David M. Rubenstein Rare Book & Manuscript Library
David M. Rubenstein Rare Book & Manuscript Library
David M. Rubenstein Rare Book & Manuscript Library
David M. Rubenstein Rare Book & Manuscript Library
David M. Rubenstein Rare Book & Manuscript Library
David M. Rubenstein Rare Book & Manuscript Library
David M. Rubenstein Rare Book & Manuscript Library
Duke Divinity School Library
Duke University Archives
Duke University Archives
Duke University Archives
Duke University Archives
Duke University Archives
Duke University Archives
Duke University Archives
Duke University Archives
Duke University Archives
Duke University Archives
Duke University Archives
Duke University Archives
Duke University Archives; Long Civil Rights Movement collaborative grant
Duke University Libraries
History of Medicine Collections
History of Medicine Collections
History of Medicine Collections
History of Medicine Collections
Human Rights Archive
Human Rights Archive
John Hope Franklin Research Center for African and African American History and Culture
John Hope Franklin Research Center for African and African American History and Culture
John Hope Franklin Research Center for African and African American History and Culture
John Hope Franklin Research Center for African and African American History and Culture
John Hope Franklin Research Center for African and African American History and Culture
John Hope Franklin Research Center for African and African American History and Culture
John Hope Franklin Research Center for African and African American History and Culture
John Hope Franklin Research Center for African and African American History and Culture
John Hope Franklin Research Center for African and African American History and Culture
John Hope Franklin Research Center for African and African American History and Culture
John Hope Franklin Research Center for African and African American History and Culture
John Hope Franklin Research Center for African and African American History and Culture
John Hope Franklin Research Center for African and African American History and Culture
John Hope Franklin Research Center for African and African American History and Culture
John W. Hartman Center for Sales, Advertising, and Marketing History
John W. Hartman Center for Sales, Advertising, and Marketing History
John W. Hartman Center for Sales, Advertising, and Marketing History
John W. Hartman Center for Sales, Advertising, and Marketing History
John W. Hartman Center for Sales, Advertising, and Marketing History
John W. Hartman Center for Sales, Advertising, and Marketing History
John W. Hartman Center for Sales, Advertising, and Marketing History
Long Civil Rights Movement collaborative grant
Sallie Bingham Center for Women's History and Culture
Sallie Bingham Center for Women's History and Culture
Sallie Bingham Center for Women's History and Culture
Sallie Bingham Center for Women's History and Culture
Sallie Bingham Center for Women's History and Culture
Sallie Bingham Center for Women's History and Culture
Small Manuscript Collections from the Rubenstein Library
Small Manuscript Collections from the Rubenstein Library
Small Manuscript Collections from the Rubenstein Library
Small Manuscript Collections from the Rubenstein Library
Small Manuscript Collections from the Rubenstein Library
Small Manuscript Collections from the Rubenstein Library
Small Manuscript Collections from the Rubenstein Library
Small Manuscript Collections from the Rubenstein Library
Small Manuscript Collections from the Rubenstein Library
Small Manuscript Collections from the Rubenstein Library
Small Manuscript Collections from the Rubenstein Library
Small Manuscript Collections from the Rubenstein Library
Small Manuscript Collections from the Rubenstein Library
Small Manuscript Collections from the Rubenstein Library
Small Manuscript Collections from the Rubenstein Library
Small Manuscript Collections from the Rubenstein Library
Small Manuscript Collections from the Rubenstein Library
Small Manuscript Collections from the Rubenstein Library
Small Manuscript Collections from the Rubenstein Library
Small Manuscript Collections from the Rubenstein Library
Small Manuscript Collections from the Rubenstein Library
Small Manuscript Collections from the Rubenstein Library
Small Manuscript Collections from the Rubenstein Library
Small Manuscript Collections from the Rubenstein Library
Small Manuscript Collections from the Rubenstein Library
Collection Information
Content
Size (in GB)
Adopt
Group

Over 7,000 U.S. and Canadian advertisements covering five product categories - Beauty and Hygiene, Radio, Television, Transportation, and World War II propaganda - dated between 1911 and 1955.

Managing Center: John W. Hartman Center for Sales, Advertising, and Marketing History

Advertisements
5
Adopted by Ann Elsner in honor of Allan Todd Sagraves
John W. Hartman Center for Sales, Advertising, and Marketing History

Thousands of television commercials created or collected by the D'Arcy Masius Benton & Bowles (DMB&B) advertising agency, dated 1950s - 1980s.

Managing Center: John W. Hartman Center for Sales, Advertising, and Marketing History

Commercials
10200
Adopt for

73950

John W. Hartman Center for Sales, Advertising, and Marketing History

African American soldier's Korean War photograph album

106 black-and-white and color photographs mounted in a black-leaf photograph album, bound in Japanese-style lacquered covers. The photographer may be an African American soldier named Tommy, who served in the U.S. Army's 511th Operation and Maintenance Service (OM SVC) Company during the Korean War. Many photographs depict both white and African American soldiers together.

Managing Center: John Hope Franklin Research Center for African and African American History and Culture

Color photographs
1.5
Adopted by Sarah Park, in honor of Kyungroc Park. 
John Hope Franklin Research Center for African and African American History and Culture

African American soldier's Vietnam War photograph album

A large photograph album likely created by an African American soldier serving in Vietnam. There are 268 uncaptioned black-and-white and several color photographs ranging in size from 2 3/4 x 3 1/2 to 3 1/2 x 5 inches, along with 15 souvenir postcards. Images primarily feature informal shots of African American and white servicemen in camp and off base, though few show the soldiers mingling.

Managing Center: John Hope Franklin Research Center for African and African American History and Culture

Photograph albums
2.5
Adopt for

20

John Hope Franklin Research Center for African and African American History and Culture

African American soldier's World War II photograph album of India

A 16-page 8 1/2 x 11 inch photograph album belonging to an unidentified member of the 45th Engineer General Service Regiment, a segregated unit of African American soldiers stationed in Ledo, India beginning in 1942. Their charge was to build a portion of the Stilwell Road, a major supply route from India to China.

Managing Center: John Hope Franklin Research Center for African and African American History and Culture

Photograph albums
1
Adopt for

10

John Hope Franklin Research Center for African and African American History and Culture

African American soldier's World War II photograph album of Munich, Germany

34 black-and-white snapshots and one photographic postcard. The photographs document a close-knit group of African American soldiers of the U.S. Army's 3909th Quartermaster Truck Company in Munich, Germany, August 1945, during the last weeks of World War II.

Managing Center: John Hope Franklin Research Center for African and African American History and Culture

Photograph albums
0.5
Adopted by Adopted by Seth Peltier in memory of Hawley Heglar and Leland Dingman
John Hope Franklin Research Center for African and African American History and Culture

Alexander H. Stephens Papers, 1823-1954

The collection includes a large amount of correspondence as well as bills/receipts, financial papers, legal papers, political papers, clippings and printed material. It ranges in date from 1823 to 1954, with the bulk covering 1823-1883.

Managing Center: David M. Rubenstein Rare Book & Manuscript Library

Mixed Manuscript Material
160
Adopt for

1160

David M. Rubenstein Rare Book & Manuscript Library

Images from Alex Harris' 1971-1972 project to document substandard housing and living conditions in North Carolina as an initiative of the Institute of Policy Sciences and Public Affairs at Duke University.

Managing Center: Archive of Documentary Arts

Documentary Photographs
5
Adopted by Hannah Jacobs
Archive of Documentary Arts

Allen Building Takeover Collection, 1969-2002

Publications, hand-outs, flyers, reports correspondence, media clippings and other items documenting the 1969 Takeover of the Allen building by students in the then Afro-American Society.

Managing Center: Duke University Archives

Mixed Material
23
Adopted by Deborah Jakubs, Jim Roberts, Susan Ross and Tom Hadzor to Tim Warmath and Ed Comber on the occasion of their marriage
Duke University Archives; Long Civil Rights Movement collaborative grant

Americans in the Land of Lenin: Documentary Photographs of Early Soviet Russia

750 photographs of every-day life in the Soviet Union (1919-1921 and 1930) from the papers of Robert L. Eichelberger and Frank Whitson Fetter.

Managing Center: Archive of Documentary Arts

Documentary Photographs
24
Adopted by Kimberly and Scott Bradford in honor of Jack A. Bradford
Archive of Documentary Arts

Legal and personal documents related to slavery in the United States including bills of sale, manumission papers, emancipation notes, bonds, auction notices and other assorted items.

Managing Center: John Hope Franklin Research Center for African and African American History and Culture

Mixed Manuscript Material
19.5
Adopt for

150

John Hope Franklin Research Center for African and African American History and Culture

Approximately 1,800 broadsides and song sheets from nineteenth-century America.

Managing Center: David M. Rubenstein Rare Book & Manuscript Library

Mixed Manuscript Material
34
Adopt for

250

David M. Rubenstein Rare Book & Manuscript Library

These printed illustrations are single sheets, similar to broadsides, that depict the body using layers or flaps that can be lifted to reveal internal organs and other body parts, mimicking what one would find upon dissection. The History of Medicine Collections have a total of ten such anatomical fugitive sheets dating from the early-sixteenth to mid-seventeenth centuries.

Managing Center: History of Medicine Collections

Anatomical drawings
5.5
Adopt for

40

History of Medicine Collections

Asa and Elna Spalding Papers, 1909-1997 and undated

Documents, photographs, memorabili and audio/visual items from an African American family's lifelong involvement in the business, political, educational, religious, and social life of Durham, N.C.

Managing Center: David M. Rubenstein Rare Book & Manuscript Library

Mixed Manuscript Material
654
Adopt for

4750

David M. Rubenstein Rare Book & Manuscript Library

Barnard and Gardner Civil War Photographs

Some of the most celebrated, recognizable, and graphic images of the American Civil War come from Alexander Gardner's Photographic Sketch Book of the Civil War and George N. Barnard's Photographic Views of Sherman's Campaign, both published in 1866.

Managing Center: Archive of Documentary Arts

Documentary Photographs
38
Adopt for

280

Archive of Documentary Arts

Basil Lee Whitener papers, 1889-1968

This collection includes correspondence between Whitener and Basil Lee's constituents, other congressmen, and government officials, legislative materials, drafts of bills, financial papers, speeches, invitations, printed material, clippings, photographs, and other papers, chiefly from congressional files (1957-1968), relating to issues of national importance during the 1960s, including the Vietnam War, crime legislation, gun control, riots, civil rights legislation, foreign aid, social security, and the Taft-Hartley Act.

Managing Center: David M. Rubenstein Rare Book & Manuscript Library

Mixed Manuscript Material
177
Adopt for

1290

David M. Rubenstein Rare Book & Manuscript Library

Benjamin and Julia Stockton Rush Papers

Personal and professional materials of Benjamin and Julia Rush, from 1766-1845, focusing on medical concerns, especially the 1793 yellow fever epidemic in Philadelphia.

Managing Center: History of Medicine Collections

Mixed Manuscript Material
39
Adopt for

290

History of Medicine Collections

Black Student Alliance Records, 1969-2006

Contains the records of the Black Student Alliance and materials of student groups specific to the African diaspora at Duke University. Also includes materials about race relations at Duke University and activities of various community groups. The records include fliers, memoranda, correspondence, printed e-mail, minutes, newsletters, reports, charts, printed materials, a scrapbook, and a history of the Black Student Alliance.

Managing Center: Duke University Archives

Mixed Manuscript Material
53
Adopt for

390

Duke University Archives

Thousands of broadsides, pamphlets, form letters, posters, newspapers, tickets, and other printed items on a wide range of topics from across the United States.

Managing Center: David M. Rubenstein Rare Book & Manuscript Library

Mixed Manuscript Material
383
Adopt for

2780

David M. Rubenstein Rare Book & Manuscript Library

Materials related to Cuban, Dominican and Haitian maritime migration from 1965-1996, including camps at the U.S. Naval Station, Guantánamo Bay, Cuba, 1991-1996.

Managing Center: David M. Rubenstein Rare Book & Manuscript Library

Mixed Manuscript Material
102
Adopt for

740

David M. Rubenstein Rare Book & Manuscript Library

Carlo Naya Photograph Albums of Venice

Four albums of mounted albumen prints of Venetian landmarks, taken by notable photographer Carlo Naya during the 1860s and perhaps into the 1870s.

Managing Center: Archive of Documentary Arts

16.5
Adopt for

120

Archive of Documentary Arts

Cesare Lombroso Letters, 1878-1908, undated, to Prof. Riccardi

This collection contains the letters from Cesare Lombroso, 1878-1908.

Managing Center: History of Medicine Collections

Mixed Material
3
Adopted by John Mishler T'09 in honor of Marc D. Samsky
History of Medicine Collections

Charles N. Hunter Papers, 1850s-1932 and undated

This collection contains correspondence, scrapbooks of clippings, print material such as articles and reports, and other papers, all dating from the Civil War into the first few decades of the 20th century. The collection was digitized as part of the collaborative grant on the Long Civil Rights Movement and its impact in North Carolina.

Managing Center: David M. Rubenstein Rare Book & Manuscript Library

Mixed Manuscript Material
248
Adopt for

1800

David M. Rubenstein Rare Book & Manuscript Library

Rare and unusual publications of music for string quartets.

Managing Center: David M. Rubenstein Rare Book & Manuscript Library

Sheet music
85
Adopted by Rebeccah Neff in honor of Harry Max Neff

Contract with Freedmen on Plains Plantation, 1865 June 8-August 28

A contract, dated 1865 June 8, made with 28 male and female former slaves for the growing of cotton on the 'Plains' plantation in Fayette, Jefferson County, Mississippi. The laborers committed to working every day 'from sun to sun,' except Sunday, with other possible days off. They were to be paid one quarter of the net proceeds for the crop.

Managing Center: John Hope Franklin Research Center for African and African American History and Culture

Contracts
0.5
Adopted by Seth Peltier in memory of Victor and Madeline Leonard, JL "Junior" Peltier and in honor of Marie Peltier.
John Hope Franklin Research Center for African and African American History and Culture

Cosmetics Trade Samples and Sachets

Samples and sachets of cosmetics, powders, makeups, soaps and scented paraphernalia, 1890s-1930s.

Managing Center: John W. Hartman Center for Sales, Advertising, and Marketing History; Sallie Bingham Center for Women's History and Culture

Mixed Material
2
Adopted by Jackie Wachholz in honor of Richard Collier, Jr. and Henry Hebert for their fine work on this collection.

Darrin Zammit Lupi photographs

Several thousand documentary images and supporting documents, data, videos, news stories, and interviews from the project On Board the MV Aquarius, December 2017, by photojournalist Darrin Zammit Lupi, on assignment for Reuters. While on board the Aquarius, a migrant search and rescue ship operated by the non-profit organizations SOS Méditeranée and Médecins sans frontières, Zammit Lupi witnessed and documented the rescue of 320 migrants in the central Mediterranean, and their safe arrival in Pozzallo, Sicily.

Managing Center: Human Rights Archive

Photographs
11.5
Adopt for

90

Human Rights Archive

Approximately 1,850 photographs shot in Cuba between 1963 and 1964 and processed by Alberto Korda on the island.

Managing Center: Archive of Documentary Arts

Documentary Photographs
3
Adopted by Jeff Kosokoff in honor of Steve Kosokoff
Archive of Documentary Arts

Department of African and African American Studies Records, 1966-1981

The Dept. of African and African American Studies collection contains the office files of department directors Walter Burford and William Turner. Materials and topics in the collection include course materials for courses taught under the aegis of Black Studies' instructors; the large efforts channeled into recruitment of full-time faculty for the program; committee work related to Black Studies proposals and to the program's departmental status; budgets; and printed matter relating to similar programs and problems at other schools. The materials date from 1966-1981.

Managing Center: Duke University Archives

Mixed Manuscript Material
134
Adopt for

980

Duke University Archives

Doris Duke Photograph Collection, 1870-2006

The Doris Duke Photograph Collection was created by combining color and black and white photographs, slides, negatives, and other photographic formats contained in albums, boxes, picture frames, and envelopes.

Managing Center: David M. Rubenstein Rare Book & Manuscript Library

Photographs
91
Adopt for

660

David M. Rubenstein Rare Book & Manuscript Library

Dorothea Stevens Diary, 1887 April 1 - August 17

Diary written in 1887 by 16-year-old Dorothea Jane Stephen, cousin to Virginia Woolf; daughter of James Fitzjames Stephen, who was brother to Leslie Stephen, Virginia Woolf's father.

Managing Center: David M. Rubenstein Rare Book & Manuscript Library

Diary
7
Adopt for

60

David M. Rubenstein Rare Book & Manuscript Library

Over 2,500 audio, video, and manuscript sermons preached at Duke University Chapel between 1946 and 2002. Funding for digitization of this collection has been provided by the Lilly Endowment Inc.

Managing Center: Duke University Archives

Sermons and services
58000
Adopt for

425590

Duke University Archives

Digitized issues of the Duke Chronicle, the university's student newspaper, dating from December 1905 to February 1989.

Managing Center: Duke University Archives

Newspaper
9370
Adopt for

67940

Duke University Archives

This collection contains images of 584 covers from Duke football game programs.

Managing Center: Duke University Archives

Sports program
14
Adopted by Bill and Ann Kirkland
Duke University Archives

Duke Men's Basketball vs. Stetson (November 29, 1980)

Footage of Mike Krzyzewski's first game as head basketball coach at Duke on November 29, 1980. Duke defeated Stetson 67-49. This silent film and others in the collection were made by and for the Duke University coaching staffs, and do not have the features common to televised games. Digitized from 16mm film reels.

Managing Center: Duke University Archives

Sports Film (moving image)
0.5
Adopted by Michael Corey T'05
Duke University Archives

The official magazine of the College of Engineering (Pratt School of Engineering) at Duke University, including 205 issues published from 1940 to 2013.

Managing Center: Duke University Archives

Magazine
253
Adopt for

1840

Duke University Archives

Survey plats of Duke University properties drawn between 1925-1926 in preparation for construction on East and West Campus.

Managing Center: Duke University Archives

Mixed Manuscript Material
99
Adopt for

720

Duke University Archives

Duke University Construction Progress Photographs, 1925-1932

A series of photographs documenting the construction of Duke University's East and West Campuses between 1925 and 1932.

Managing Center: Duke University Archives

Photographs
23
Adopted by Michael Schoenfeld T'84 and Elizabeth Schoenfeld T'84
Duke University Archives

Historic aerial photographs of Durham, NC.

Managing Center: Data and Visualization Services at Duke University Libraries

Aerial photographs
20
Adopted by Sara and Bruce Brandaleone in honor of Chris Brandaleone and Jennifer Hochberg
Data and Visualizaton Services

Earl Garfield Cunningham World War II scrapbook, photographs, and ephemera

Collection includes 12 scrapbook pages containing more than 150 amateur corner-mounted photographs taken primarily in Italy, together with postcards of Italian sights; military appointment certificates; military records; military awards including the Bronze Star Medal; and additional photographs that collectively document the military career and experiences of African American soldier Earl G. Cunningham.

Managing Center: John Hope Franklin Research Center for African and African American History and Culture

Photographs
2
Adopt for

20

John Hope Franklin Research Center for African and African American History and Culture

Elizabeth Hatcher Conner Collection, 1933-1945

Elizabeth Hatcher, Duke University class of 1939, was a photographer and member of the Explorers' Club, along with her future husband Bob Conner. The collection includes many photographs, a scrapbook, letters, and other materials documenting campus life at Duke in the late 1930s.

Managing Center: Duke University Archives

Negatives
124
Adopt for

900

Duke University Archives

Elizabeth Johnson Harris Memoir

Handwritten memoir of poet and writer Elizabeth Johnson Harris, 1923.

Managing Center: John Hope Franklin Research Center for African and African American History and Culture; Sallie Bingham Center for Women's History and Culture

3
Adopted by Hannah Jacobs

Emergence of Advertising in America: 1850-1920

Over 3,300 advertising items and publications dating from 1850 to 1920, illustrating the rise of consumer culture and the birth of a professionalized advertising industry in the United States.

Managing Center: John W. Hartman Center for Sales, Advertising, and Marketing History

Advertisements
4.5
Adopted by Cat McDowell
John W. Hartman Center for Sales, Advertising, and Marketing History

Over 300 letters, primarily written by Emma Goldman. Other anarchists, activists, and thinkers are represented as authors, including Alexander Berkman, Eugene Debs, Harry Kelly, Alexander Shapiro, and the Socialist Party of New England. Many of the letter recipients are unnamed (as 'Comrade'), but the majority of the letters were directed to Thomas H. Keell, an English compositor and editor for the anarchist periodical Freedom, in London.

Managing Center: Sallie Bingham Center for Women's History and Culture

Letters
109
Adopt for

790

Sallie Bingham Center for Women's History and Culture

Faith Holsaert Papers, 1950-2011

The collection contains correspondence, newsletters, publications, and other materials relating to the activities of Faith Holsaert from the 1960s to the present.

Managing Center: Sallie Bingham Center for Women's History and Culture

Mixed Manuscript Material
27.5
Adopt for

200

Sallie Bingham Center for Women's History and Culture

Frank Baker Collection of Wesleyana and British Methodism, 1536-1996 and undated

Letters and writings of the Wesley family collected by Dr. Frank Baker

Managing Center: David M. Rubenstein Rare Book & Manuscript Library

Mixed Manuscript Material
25
Adopt for

190

David M. Rubenstein Rare Book & Manuscript Library

60 wax cylinders, 51 aluminum lacquer (acetate) phonodiscs, and 25 aluminum phonodiscs extant from Brown's original field recordings. Brown recorded these performances between 1914 and his death in 1943, as part of his lifelong exploration and collecting of North Carolina and Appalachian folk music, ballads, and folklore. The recordings form the backbone of the seven-volume Frank C. Brown Collection of North Carolina Folklore.

Managing Center: David M. Rubenstein Rare Book & Manuscript Library

Songs (performances)
1699
Adopt for

12320

David M. Rubenstein Rare Book & Manuscript Library

Photographs and interviews from Frank Espada's Puerto Rican Diaspora Documentary Project (1979-1981) (audio is not publicly accessible).

Managing Center: Archive of Documentary Arts

Documentary photographs and interviews (audio)
259
Adopt for

1880

Archive of Documentary Arts

Friedrich Carl Peetz Photographs

Approximately 120 photographs taken by a German Naval officer during the Boxer Rebellion in China in 1900.

Managing Center: Archive of Documentary Arts

Documentary Photographs
3
Adopt for

30

Archive of Documentary Arts

Gary Monroe Photographs, 1980-1998

100 black-and-white photos shot by Gary Monroe from 1980 to 1998 in Haiti, in Haitian neighborhoods in Florida, and in Krome Camp, Florida, where Haitian refugees are detained by the U.S. government.

Managing Center: Archive of Documentary Arts

Documentary Photographs
9
Adopted by John Mishler in honor of Dr. Megan Jeanette Myers
Archive of Documentary Arts

George Frederick Holmes Papers, 1767-1960

Correspondence, notes, diaries, and literary works of George Frederick Holmes. Also contains correspondence of William Howard Perkinson; and of Joseph Henry Herndon Holmes and Mary Ann Pemberton Holmes, parents of George Frederick Holmes.

Managing Center:

Letter books
15
Adopt for

110

David M. Rubenstein Rare Book & Manuscript Library

Haitian Declaration of Independence

A rare manuscript copy of the Haitian Declaration of Independence (1804), and an excerpted copy of a will for Monsieur de la Martinier (1799) which mentions those with family members who became key Haitian revolutionaries.

Managing Center: David M. Rubenstein Rare Book & Manuscript Library

Mixed Material
1
Adopted by Yves René

Hayti-Elizabeth Street Renewal Area

3 maps of the general neighborhood renewal plan of the Hayti-Elizabeth Street area in Durham, North Carolina, and two final project reports of the renewal project, dated 1962.

Managing Center: David M. Rubenstein Rare Book & Manuscript Library

Maps
41
Adopt for

300

David M. Rubenstein Rare Book & Manuscript Library

Henry Heyliger photograph album of occupied Japan

An accordion-bound photograph album containing 158 black-and-white and a few color photographs, belonging to African American soldier Henry Heyliger, named numerous times in the album. Most of the photographs document the 610th Port Company based in Yokohama, Japan, 1947, and many are labeled with soldier's names and some locations.

Managing Center: John Hope Franklin Research Center for African and African American History and Culture

Photograph albums
0.5
Adopt for

10

John Hope Franklin Research Center for African and African American History and Culture

Images from the papers of Henry J. Oosting, Professor of Botany and Chairman of the Department of Botany at Duke University from 1931 to 1962. Oosting was a member of the 1937 Louise A. Boyd expedition to Greenland with the American Geographical Society.

Managing Center: Duke University Archives

Negatives
11
Adopt for

80

Duke University Archives

Over 3,000 pieces of sheet music published in the United States between 1850 and 1920.

Managing Center: David M. Rubenstein Rare Book & Manuscript Library

Sheet Music
1
Adopted by Tim McGeary in honor of Kenneth McGeary

History of Medicine Artifacts collection, 1550-1980s

Collection of historical medical instruments and artifacts, art objects, realia, and other three-dimensional objects related to the history of medicine, primarily originating from Europe and the United States, but including some artifacts from China and Japan, ranging in age from 16th to 20th centuries.

Managing Center: History of Medicine Collections

Photographs of artifacts
0.5
Adopted by Harsha Murthy T'81 in memory of M.S.N. Murthy, M.D.
History of Medicine Collections

Hundreds of portraits made by an itinerant photographer who rode the trains to the small towns of North Carolina, Virginia and West Virginia.

Managing Center: Archive of Documentary Arts

Documentary Photographs
82.5
Adopt for

600

Archive of Documentary Arts

Images of Mainline Protestant Children and Families in the U.S.

Articles and advertising images of Protestant children and families in the U.S. from Protestant-supported or targeted magazines.

Managing Center: Duke Divinity School

Magazines
5
Adopt for

40

Duke Divinity School Library

Isaac Leroy Shaver Papers, 1893-1982

The collection includes sermons, correspondence, photographs, printed material and published works related to Shaver's missionary work in Japan and Idaho.

Managing Center: David M. Rubenstein Rare Book & Manuscript Library

Mixed Manuscript Material
245
Adopt for

1780

David M. Rubenstein Rare Book & Manuscript Library

Includes 108 Italian cultural and political posters mostly dating from the 1970s-1980s, including many created by the Partito comunista italiano.

Managing Center: David M. Rubenstein Rare Book & Manuscript Library

Posters
54
Adopt for

400

David M. Rubenstein Rare Book & Manuscript Library

J. Walter Thompson Company Newsletters

Internally produced newsletters from The J. Walter Thompson Company between 1916 and 1986.

Managing Center: John W. Hartman Center for Sales, Advertising, and Marketing History

Company newsletters
303
Adopt for

2200

John W. Hartman Center for Sales, Advertising, and Marketing History

J. Walter Thompson Ford Motor Co. Advertisments

The collection includes over 11,000 advertisements created by the J. Walter Thompson advertising agency for Ford Motor Company's lines of cars, trucks, vans, and SUVs; Ford Farming line of tractors; Genuine Ford Parts; and dealerships and automotive services from 1945 through 2007.

Managing Center: John W. Hartman Center for Sales, Advertising, and Marketing History

Advertisements
482
Adopt for

3500

John W. Hartman Center for Sales, Advertising, and Marketing History

Photographs by 20th century American photojournalist James Karales made between 1953 and 1985.

Managing Center: Archive of Documentary Arts

Documentary Photographs
10
Adopt for

80

Archive of Documentary Arts

Jazz Loft Project Records, 1950-2012 and undated

The Jazz Loft Project Records consist of the research and administrative records of author Sam Stephenson's Jazz Loft Project, which documented the events and inhabitants.

Managing Center: David M. Rubenstein Rare Book & Manuscript Library

Records and oral Histories (audio and moving image)
1210
Adopt for

8780

David M. Rubenstein Rare Book & Manuscript Library

131 photos from several of Andrews' projects, including portraits from North Carolina, Virginia, and New York City; and photographs of Halifax and Pittsylvania counties.

Managing Center: Archive of Documentary Arts

Documentary Photographs
4
Adopted by Lesley Looper
Archive of Documentary Arts

Joe Hernandez's scrap book includes black and white and color photographs, ticket stubs, matchbook covers, night club flyers, program, postcards and more from performance venues for female impersonators and gay clubs across the United States.

Managing Center: David M. Rubenstein Rare Book & Manuscript Library

Scrapbook
6.25
Adopt for

50

David M. Rubenstein Rare Book & Manuscript Library

Joseph A. Sinsheimer Papers, 1962-1987

Joseph A. Sinsheimer recorded oral histories of the Mississippi civil rights movement between 1983 and 1987, with grant support from the Lyndhurst Foundation.

Managing Center: David M. Rubenstein Rare Book & Manuscript Library

Oral histories (audio and written transcripts)
121
Adopt for

880

David M. Rubenstein Rare Book & Manuscript Library

Josephine Napoleon Leary Papers, 1873-1988

The personal and business papers of Josephine Leary, an African-American business woman of Edenton, North Carolina. Josephine Leary, born into slavery and freed at age 9, owned several properties in Edenton until her death in 1923.

Managing Center: David M. Rubenstein Rare Book & Manuscript Library

Mixed Manuscript Material
43
Adopt for

320

David M. Rubenstein Rare Book & Manuscript Library

Documents and source materials related to activist Judy Richardson, during her time with the Student Nonviolent Coordinating Committee (SNCC), 1963-1966.

Managing Center: John Hope Franklin Research Center for African and African American History and Culture

Mixed Manuscript Material
60
Adopt for

440

John Hope Franklin Research Center for African and African American History and Culture

Postcards showing the aftermath of the 1923 earthquake in the Kanto region of Japan

Managing Center: David M. Rubenstein Rare Book & Manuscript Library

Mixed Manuscript Material
7
Adopt for

60

David M. Rubenstein Rare Book & Manuscript Library

Ladyslipper, Inc. Retail Catalogs

52 retail catalogs produced and published by Ladyslipper Records Inc., a Durham, North Carolina-based non-profit organization which has been involved in many facets of women's music since 1976.

Managing Center:

Sales catalogs
93
Adopt for

680

David M. Rubenstein Rare Book & Manuscript Library

Audio and video of meetings and activities of the Student Nonviolent Coordinating Committee in Georgia recorded by Larry Rubin, audio letters from Larry Rubin to his parents from Georgia, and Rubin's radio program, 'Revolution in Georgia,' created at Antioch College, 1960s.

Managing Center: John Hope Franklin Research Center for African and African American History and Culture

Audio recordings
166
Adopt for

1210

John Hope Franklin Research Center for African and African American History and Culture

Manuscripts and Woodcuts: Visions and Designs from Bloomsbury

12 Woodcuts by Roger Fry and the manuscript of Elizabeth and Essex written in Lytton Strachey's hand with 7 miscellaneous ms. letters.

Managing Center: David M. Rubenstein Rare Book & Manuscript Library

Woodcuts
9
Adopted by John Mishler T'09 in honor of Matthew Holt Hameroff

Correspondence, project files, subject files, and publications documenting the human rights activism of the Rabbi Marshall T. Meyer in 1970s and 1980s Argentina.

Managing Center: Human Rights Archive

Mixed Manuscript Material
311
Adopt for

2260

Human Rights Archive

Maynard Miller photograph album of occupied Japan

A large photograph album, marked 'property of Staff Sergeant Maynard Miller,' containing approximately 200 photographs of African American soldiers in Tokyo and other locales in occupied Japan during 1946.

Managing Center: John Hope Franklin Research Center for African and African American History and Culture

Photograph albums
2
Adopt for

20

John Hope Franklin Research Center for African and African American History and Culture

Over 600 advertising items and publications dating from 1850 to 1920, illustrating the rise of consumer culture and the birth of a professionalized advertising industry in the United States.

Managing Center: John W. Hartman Center for Sales, Advertising, and Marketing History

Advertisements
0.5
Adopted by Tim McGeary in honor of Barbara McGeary
John W. Hartman Center for Sales, Advertising, and Marketing History

Michael Francis Blake Photographs, 1912-1934

117 photographs of men, women, and children taken between 1912-1934 by Blake who opened one of the first African-American photography studios in Charleston, S.C.

Managing Center: Archive of Documentary Arts

Documentary Photographs
13
Adopt for

100

Archive of Documentary Arts

52 caricatures from Musée des Horreurs and 3 caricatures from Musée des Patriotes depicting the anti-Semitic sentiment in France during the Dreyfus Affair, published between 1899 and 1900.

Managing Center: David M. Rubenstein Rare Book & Manuscript Library

Caricatures
8
Adopt for

60

David M. Rubenstein Rare Book & Manuscript Library

Orange County (N.C.) Tax List Ledger, 1875

Tax ledger recording individual taxes owed by citizens in Orange County, N.C., for 1875.

Managing Center: David M. Rubenstein Rare Book & Manuscript Library

Ledger
20.5
Adopt for

150

David M. Rubenstein Rare Book & Manuscript Library

Paul A. Samuelson Economics Cassette Series

Interviews with Paul Samuelson as well as Milton Friedman, discussing fiscal policy and other issues through their respective lenses of Keynesian and Monetarist economics

Managing Center: David M. Rubenstein Rare Book & Manuscript Library

Audiocassettes
289
Adopt for

2100

David M. Rubenstein Rare Book & Manuscript Library

580 photographs depicting life in Bainbridge, Georgia from 1960-2001, and several manuscripts by the photographer.

Managing Center: Archive of Documentary Arts

Documentary Photographs
16
Adopted by John Mishler T'09 in honor of Nathaniel Scott Ries
Archive of Documentary Arts

Photographs taken by Lt. Col. Sir Percy Sykes to illustrate Chinese Turkestan, the Russian Pamirs and Osh April-November, 1915

48 photographs taken by Sir Percy Moleworth Sykes during his travels in a mountainous region of Central Asia, now the Xinjiang Uyghur Autonomous Region of China, with his sister, Ella Sykes.

Managing Center: David M. Rubenstein Rare Book & Manuscript Library

Black-and-white photographs
6
Adopt for

50

David M. Rubenstein Rare Book & Manuscript Library

Ration Coupons on the Home Front, 1942-1945

This collection shows how the U.S. government controlled and conserved vehicles, typewriters, sugar, shoes, fuel, and food.

Managing Center: Duke University Libraries

Mixed Manuscript Material
9
Adopt for

70

Duke University Libraries

Re-Imagining is an ecumenical, radical, Christian movement focused on creating ways of understanding Womanist, Feminist, Mujerista, and Asian Feminist theologies, and opening spaces for dialogue with the church, diverse religious communities, and the world.

Managing Center: Sallie Bingham Center for Women's History and Culture

Interviews
3
Adopt for

30

Sallie Bingham Center for Women's History and Culture

898 nitrate negatives and two prints, all taken by amateur photographer Reginald Sellman from 1911 to 1935, chiefly in Baltimore, Maryland and environs.

Managing Center: Archive of Documentary Arts

Black-and-white photographs
182
Adopt for

1320

Archive of Documentary Arts

Rencher Harris papers, 1851-1980 and undated

The collection consists mainly of clippings, correspondence, legal papers, photographs, printed materials, journals and diaries, scrapbooks, oversize maps, and reports relating to Harris' work in political and educational affairs in Durham, North Carolina in the 1950s and early 1960s as a member of the City Council and the School Board, with emphasis on school desegregation, civil rights, and race relations in Durham.

Managing Center: David M. Rubenstein Rare Book & Manuscript Library

Mixed Manuscript Material
126
Adopt for

920

David M. Rubenstein Rare Book & Manuscript Library

Resource of Outdoor Advertising Descriptions 2.0 (ROAD 2.0)

ROAD 2.0 is comprised of over 31,000 digitized images from 5 collections: the Outdoor Advertising Association of America (OAAA) Archives, the OAAA Slide Library, R.C. Maxwell Company Records, and the papers of prominent outdoor advertising figures John Paver and John Brennan. The project originated as a metadata-only database in 2003, funded by an grant from the National Endowment for the Humanities. A grant from the National Historical Publications and Records Commission (NHPRC) later funded digitization.

Managing Center: John W. Hartman Center for Sales, Advertising, and Marketing History

Advertisements
1311
Adopted by Fletcher Family Foundation in honor of Nancy Fletcher
John W. Hartman Center for Sales, Advertising, and Marketing History

Richard Henry Gregory papers, 1905-1910

This collection contains diaries and photographs from Gregory's travels in China, 1905-1906, as an employee of the British-American Tobacco Company. It includes material on travels to Shanghai, Hankow, and the provinces of Honan, Hunan, Hupeh, and Kiangsi, including descriptions of the countryside and customs, and of tobacco culture in the region.

Managing Center: David M. Rubenstein Rare Book & Manuscript Library

Mixed Manuscript Material
4
Adopt for

30

David M. Rubenstein Rare Book & Manuscript Library

289 photographs and contact sheets made between 1957 and 1973 primarily in London and New York City.

Managing Center: Archive of Documentary Arts

Documentary Photographs
9
Adopt for

70

Archive of Documentary Arts

Russian Posters Collection, 1919-1989 and undated

Consists of 75 Russian posters, documenting almost 60 years of Communist political advertising (1920s-1980s).

Managing Center: David M. Rubenstein Rare Book & Manuscript Library

Posters
27
Adopted by the Fall 2005 Changing Faces of Russia FOCUS in honor of Dr. Jehanne Gheith, Dr. Edna Andrews, Professor Michael Newcity, Dr. Warren Lerner, and Dr. Simon Cook 

Sam Reed and the Trumpet of Conscience

Collection documenting the life and work of activist and organizer, Sam Reed, and the organization he founded, the Trumpet of Conscience, 1987-2000.

Managing Center: John Hope Franklin Research Center for African and African American History and Culture

Newsletters and photographs
4
Adopt for

30

John Hope Franklin Research Center for African and African American History and Culture

Samuel Wilberforce papers, 1790-1872

Samuel Wilberforce (1805-1873) was an Anglican Bishop of Oxford and Winchester. The collection consists primarily of letters related to missionary activities of the Church of England in East Africa and in various British colonies.

Managing Center: David M. Rubenstein Rare Book & Manuscript Library

Mixed Manuscript Material
9
Adopt for

70

David M. Rubenstein Rare Book & Manuscript Library

Correspondence, financial papers, legal papers, writings and speeches, scrapbooks, photographs, films, audio tapes, and other materials reflecting the philanthropic, financial, cultural and social activities of the Semans family and other wealthy families in North Carolina and New York.

Managing Center: David M. Rubenstein Rare Book & Manuscript Library

Autochromes (photographs)
0.5
Adopted by Seth Peltier in honor of Mark and Teresa Peltier
David M. Rubenstein Rare Book & Manuscript Library

Over 5,000 photographs, primarily of China, 1908-1932.

Managing Center: Archive of Documentary Arts

Documentary photographs and glass plate negatives
538
Adopt for

3910

Archive of Documentary Arts

Silent Vigil (1968) and Allen Building Takeover (1969) Audio Recordings

Recordings of the Silent Vigil at Duke following the assassination of Dr. Martin Luther King, Jr., and the occupation of the Allen Building in February 1969 by Duke's Afro-American Society.

Managing Center: Duke University Archives

Audio Recordings
25
Adopt for

190

David M. Rubenstein Rare Book & Manuscript Library

Small Manuscript Collections from the Rubenstein Library, Box 1

Manuscript collections, predominately from the 19th century American South, that document life, politics, and culture in a variety of formats, including letters, diaries, and business papers.

Managing Center: David M. Rubenstein Rare Book & Manuscript Library

Mixed Manuscript Material
19
Adopt for

140

Small Manuscript Collections from the Rubenstein Library

Small Manuscript Collections from the Rubenstein Library, Box 2

Manuscript collections, predominately from the 19th century American South, that document life, politics, and culture in a variety of formats, including letters, diaries, and business papers.

Managing Center: David M. Rubenstein Rare Book & Manuscript Library

Mixed Manuscript Material
29
Adopt for

210

Small Manuscript Collections from the Rubenstein Library

Small Manuscript Collections from the Rubenstein Library, Box 3

Manuscript collections, predominately from the 19th century American South, that document life, politics, and culture in a variety of formats, including letters, diaries, and business papers.

Managing Center: David M. Rubenstein Rare Book & Manuscript Library

Mixed Manuscript Material
20
Adopt for

150

Small Manuscript Collections from the Rubenstein Library

Small Manuscript Collections from the Rubenstein Library, Box 4

Manuscript collections, predominately from the 19th century American South, that document life, politics, and culture in a variety of formats, including letters, diaries, and business papers.

Managing Center: David M. Rubenstein Rare Book & Manuscript Library

Mixed Manuscript Material
29
Adopt for

210

Small Manuscript Collections from the Rubenstein Library

Small Manuscript Collections from the Rubenstein Library, Box 5

Manuscript collections, predominately from the 19th century American South, that document life, politics, and culture in a variety of formats, including letters, diaries, and business papers.

Managing Center: David M. Rubenstein Rare Book & Manuscript Library

Mixed Manuscript Material
38
Adopt for

280

Small Manuscript Collections from the Rubenstein Library

Small Manuscript Collections from the Rubenstein Library, Box 6

Manuscript collections, predominately from the 19th century American South, that document life, politics, and culture in a variety of formats, including letters, diaries, and business papers.

Managing Center: David M. Rubenstein Rare Book & Manuscript Library

Mixed Manuscript Material
32.5
Adopt for

240

Small Manuscript Collections from the Rubenstein Library

Small Manuscript Collections from the Rubenstein Library, Box 7

Manuscript collections, predominately from the 19th century American South, that document life, politics, and culture in a variety of formats, including letters, diaries, and business papers.

Managing Center: David M. Rubenstein Rare Book & Manuscript Library

Mixed Manuscript Material
34
Adopt for

250

Small Manuscript Collections from the Rubenstein Library

Small Manuscript Collections from the Rubenstein Library, Box 8

Manuscript collections, predominately from the 19th century American South, that document life, politics, and culture in a variety of formats, including letters, diaries, and business papers.

Managing Center: David M. Rubenstein Rare Book & Manuscript Library

Mixed Manuscript Material
25.5
Adopt for

190

Small Manuscript Collections from the Rubenstein Library

Small Manuscript Collections from the Rubenstein Library, Box 9

Manuscript collections, predominately from the 19th century American South, that document life, politics, and culture in a variety of formats, including letters, diaries, and business papers.

Managing Center: David M. Rubenstein Rare Book & Manuscript Library

Mixed Manuscript Material
36.5
Adopt for

270

Small Manuscript Collections from the Rubenstein Library

Small Manuscript Collections from the Rubenstein Library, Box 10

Manuscript collections, predominately from the 19th century American South, that document life, politics, and culture in a variety of formats, including letters, diaries, and business papers.

Managing Center: David M. Rubenstein Rare Book & Manuscript Library

Mixed Manuscript Material
23
Adopt for

170

Small Manuscript Collections from the Rubenstein Library

Small Manuscript Collections from the Rubenstein Library, Box 11

Manuscript collections, predominately from the 19th century American South, that document life, politics, and culture in a variety of formats, including letters, diaries, and business papers.

Managing Center: David M. Rubenstein Rare Book & Manuscript Library

Mixed Manuscript Material
18
Adopt for

140

Small Manuscript Collections from the Rubenstein Library

Small Manuscript Collections from the Rubenstein Library, Box 12

Manuscript collections, predominately from the 19th century American South, that document life, politics, and culture in a variety of formats, including letters, diaries, and business papers.

Managing Center: David M. Rubenstein Rare Book & Manuscript Library

Mixed Manuscript Material
29
Adopt for

210

Small Manuscript Collections from the Rubenstein Library

Small Manuscript Collections from the Rubenstein Library, Box 13

Manuscript collections, predominately from the 19th century American South, that document life, politics, and culture in a variety of formats, including letters, diaries, and business papers.

Managing Center: David M. Rubenstein Rare Book & Manuscript Library

Mixed Manuscript Material
29.5
Adopt for

220

Small Manuscript Collections from the Rubenstein Library

Small Manuscript Collections from the Rubenstein Library, Box 14

Manuscript collections, predominately from the 19th century American South, that document life, politics, and culture in a variety of formats, including letters, diaries, and business papers.

Managing Center: David M. Rubenstein Rare Book & Manuscript Library

Mixed Manuscript Material
25.5
Adopt for

190

Small Manuscript Collections from the Rubenstein Library

Small Manuscript Collections from the Rubenstein Library, Box 15

Manuscript collections, predominately from the 19th century American South, that document life, politics, and culture in a variety of formats, including letters, diaries, and business papers.

Managing Center: David M. Rubenstein Rare Book & Manuscript Library

Mixed Manuscript Material
28
Adopt for

210

Small Manuscript Collections from the Rubenstein Library

Small Manuscript Collections from the Rubenstein Library, Box 16

Manuscript collections, predominately from the 19th century American South, that document life, politics, and culture in a variety of formats, including letters, diaries, and business papers.

Managing Center: David M. Rubenstein Rare Book & Manuscript Library

Mixed Manuscript Material
38
Adopt for

280

Small Manuscript Collections from the Rubenstein Library

Small Manuscript Collections from the Rubenstein Library, Box 17

Manuscript collections, predominately from the 19th century American South, that document life, politics, and culture in a variety of formats, including letters, diaries, and business papers.

Managing Center: David M. Rubenstein Rare Book & Manuscript Library

Mixed Manuscript Material
35
Adopt for

260

Small Manuscript Collections from the Rubenstein Library

Small Manuscript Collections from the Rubenstein Library, Box 18

Manuscript collections, predominately from the 19th century American South, that document life, politics, and culture in a variety of formats, including letters, diaries, and business papers.

Managing Center: David M. Rubenstein Rare Book & Manuscript Library

Mixed Manuscript Material
29
Adopt for

210

Small Manuscript Collections from the Rubenstein Library

Small Manuscript Collections from the Rubenstein Library, Box 19

Manuscript collections, predominately from the 19th century American South, that document life, politics, and culture in a variety of formats, including letters, diaries, and business papers.

Managing Center: David M. Rubenstein Rare Book & Manuscript Library

Mixed Manuscript Material
24
Adopt for

180

Small Manuscript Collections from the Rubenstein Library

Small Manuscript Collections from the Rubenstein Library, Box 20

Manuscript collections, predominately from the 19th century American South, that document life, politics, and culture in a variety of formats, including letters, diaries, and business papers.

Managing Center: David M. Rubenstein Rare Book & Manuscript Library

Mixed Manuscript Material
37
Adopt for

270

Small Manuscript Collections from the Rubenstein Library

Small Manuscript Collections from the Rubenstein Library, Box 21

Manuscript collections, predominately from the 19th century American South, that document life, politics, and culture in a variety of formats, including letters, diaries, and business papers.

Managing Center: David M. Rubenstein Rare Book & Manuscript Library

Mixed Manuscript Material
42
Adopt for

310

Small Manuscript Collections from the Rubenstein Library

Small Manuscript Collections from the Rubenstein Library, Box 22

Manuscript collections, predominately from the 19th century American South, that document life, politics, and culture in a variety of formats, including letters, diaries, and business papers.

Managing Center: David M. Rubenstein Rare Book & Manuscript Library

Mixed Manuscript Material
33
Adopt for

240

Small Manuscript Collections from the Rubenstein Library

Small Manuscript Collections from the Rubenstein Library, Box 23

Manuscript collections, predominately from the 19th century American South, that document life, politics, and culture in a variety of formats, including letters, diaries, and business papers.

Managing Center: David M. Rubenstein Rare Book & Manuscript Library

Mixed Manuscript Material
42
Adopt for

310

Small Manuscript Collections from the Rubenstein Library

Small Manuscript Collections from the Rubenstein Library, Box 24

Manuscript collections, predominately from the 19th century American South, that document life, politics, and culture in a variety of formats, including letters, diaries, and business papers.

Managing Center: David M. Rubenstein Rare Book & Manuscript Library

Mixed Manuscript Material
40
Adopt for

290

Small Manuscript Collections from the Rubenstein Library

Small Manuscript Collections from the Rubenstein Library, Box 25

Manuscript collections, predominately from the 19th century American South, that document life, politics, and culture in a variety of formats, including letters, diaries, and business papers.

Managing Center: David M. Rubenstein Rare Book & Manuscript Library

Mixed Manuscript Material
19.5
Adopt for

150

Small Manuscript Collections from the Rubenstein Library

Sports Information Office: Photographic Negatives collection, circa 1924-1992, 1995, undated

Photographic negatives related to sports at Duke. There are also negatives that pertain to general athletics. The subjects of the negatives include athletes, coaches, team pictures, and game action. The collection ranges in date from 1924-1992, 1995, undated.

Managing Center: Duke University Archives

Cellulose nitrate film
1737
Adopt for

12600

Duke University Archives

Student Nonviolent Coordinating Committee 40th Anniversary conference videocassette tapes, 2000

Sixteen digital videocassette tapes documenting the 13 April 2000 conference, 'We Who Believe in Freedom Cannot Rest: Ella J. Baker ('Miss Baker') and the Birth of the Student Nonviolent Coordinating Committee,' held at Shaw University, in Raleigh, NC.

Managing Center: John Hope Franklin Research Center for African and African American History and Culture

Conference proceedings (moving image)
180
Adopt for

1310

John Hope Franklin Research Center for African and African American History and Culture

Activist and union organizer who was involved with the Coalition of Labor Union Women, the Service Employees International Union, the Black Radical Congress, the Black Workers for Justice, Jobs with Justice, Solidarity, and the Durham NAACP. El-Amin was also a founding member of the Labor Party and the Southern Anti-Racism Network.

Managing Center: Sallie Bingham Center for Women's History and Culture

Speeches (documents)
1
Adopt for

10

Sallie Bingham Center for Women's History and Culture

Thomas and Jane Welsh Carlyle papers

Correspondence, fragments, and notes from Thomas and Jane Welsh Carlyle and their circle

Managing Center: David M. Rubenstein Rare Book & Manuscript Library

Correspondence
7.5
Adopt for

60

David M. Rubenstein Rare Book & Manuscript Library

Three issues of the comic book series Vica by Vincent Krassousky produced in France during World War II.

Managing Center: David M. Rubenstein Rare Book & Manuscript Library

Propaganda
5
Adopt for

40

David M. Rubenstein Rare Book & Manuscript Library

W. Duke, Sons & Co. Advertising Materials, 1880-1910

Tobacco trading cards, albums, and other advertising collectibles from the W. Duke Sons & Co., Liggett & Myers, American Tobacco, and other tobacco companies.

Managing Center: David M. Rubenstein Rare Book & Manuscript Library

Tobacco cards and albums
48
Adopted by in honor of Sara H. Brandaleone WC'65, P'03, P'07, a Duke and Durham fan, for her remarkable service to the Library Advisory Board 1997 – 2019.

Wesley Family papers, 1726-1889 and undated

Anglican clergymen John Wesley (1703-1791) and Charles Wesley (1707-1788) co-founded the Methodist movement.

Managing Center: David M. Rubenstein Rare Book & Manuscript Library

Mixed Manuscript Material
16
Adopt for

120

David M. Rubenstein Rare Book & Manuscript Library

William Emerson Strong Photograph Album

Portraits of 200 military officers and 'notorious characters' of the Confederacy.

Managing Center: Archive of Documentary Arts

Cartes-des-visites
22
Adopt for

160

Archive of Documentary Arts

William Wilberforce Papers, 1782-1837 and undated

British politician and social reformer William Wilberforce (1759-1833) was a leader in the movement to abolish slavery.

Managing Center: David M. Rubenstein Rare Book & Manuscript Library

Mixed Manuscript Material
71
Adopt for

520

David M. Rubenstein Rare Book & Manuscript Library

Women's Army Corps and WAC African American Band scrapbook from Fort Des Moines

A 44-page scrapbook belonging to an unidentified compiler, that documents the history of Fort Des Moines as a Women's Army Corps training center, and more specifically the 404th Women's Army Corps (WAC) band, the first African American female band in the United States military.

Managing Center: John Hope Franklin Research Center for African and African American History and Culture

Mixed Manuscript Material
1
Adopt for

10

John Hope Franklin Research Center for African and African American History and Culture

Women's Liberation Movement Print Culture

Manifestos, speeches, essays, and other materials documenting various aspects of the Women's Movement in the United States in the 1960s and 1970s.

Managing Center: Sallie Bingham Center for Women's History and Culture

Mixed Material
19
Adopted by Jamie R. Flynn T'93 and Sean M. Flynn T'90
Sallie Bingham Center for Women's History and Culture

Over 100 diaries written by British and American women who documented their travels to places around the globe, including India, the West Indies, countries in Europe, Africa, and the Middle East, as well as around the United States.

Managing Center: Sallie Bingham Center for Women's History and Culture

Diaries
983
Adopted by Anne T'73 and Bill Newton
Sallie Bingham Center for Women's History and Culture

Women-In-Action for the Prevention of Violence and Its Causes, Inc. Durham Chapter records, 1968-1998

Non-profit, inter-racial organization founded in Durham, N.C. in September 1968; Elna Spaulding was founder and first president. Collection comprises correspondence, by-laws, meeting agendas and minutes, budgets, articles of incorporation, as well as information about the organization's relationship to the Women In Action Foundation of Durham, N.C.

Managing Center: David M. Rubenstein Rare Book & Manuscript Library

Mixed Material
165
Adopted by James Semans in memory of the friendship between and activism of Elna and Asa Spaulding and Mary Duke Biddle Trent Semans.
Long Civil Rights Movement collaborative grant