The East Asian Collection at Duke University Libraries focuses on modern and contemporary Japanese, Chinese and Korean materials in the humanities and social sciences. Our collection encompasses about 200,000print volumes, including:
100,000 Japanese materials
73,000 Chinese materials
31,000 Korean materials
Many language-specific databases 
12,000 e-books in Chinese, Japanese and Korean
Our History
The East Asian Collection began in the late 1920s when James A. Thomas (1862-1940), who spent more than 30 years in China managing operations for the British-American Tobacco Company, gave Duke University 1,500 volumes from his personal library. The collection grew beginning with Japanese materials in the late 1960s and Chinese and Korean materials in the 1990s. Today the East Asian Collection is a regional resource center for students and researchers.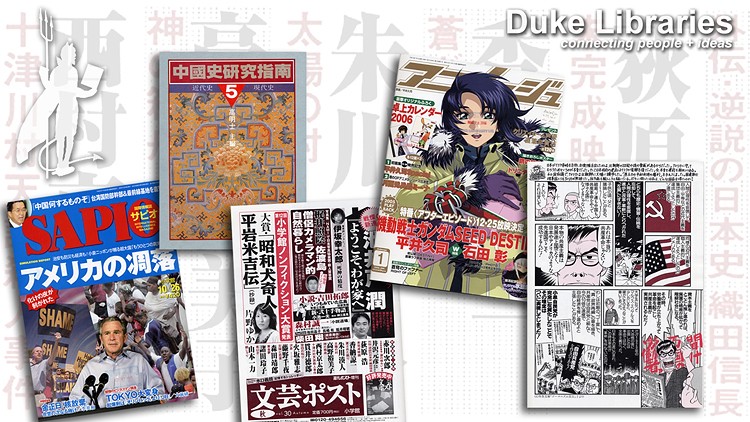 The Japanese collection has notable strengths in 19th- and 20th-century materials, particularly in the following areas:
Buddhism
Japan's colonial history
Manga and anime
Modern art history
Popular culture: advertising, film, women's magazines
The modern novel
Women's and labor history
Full-text, online newspapers
In addition, the collection includes basic works in premodern Japanese literature, economic, legal and social history, and Japanese research on Chinese art history and Daoism.
The Chinese collection at Duke began in the mid-1990s. At that time, Duke University Libraries modified its longstanding agreement with nearby University of North Carolina at Chapel Hill (UNC), which had focused on Chinese history, literature and religion.  Duke began collecting Chinese materials that UNC was not collecting in depth, especially popular culture and contemporary social science.
The Chinese collection at Duke University Libraries includes:
Core titles in literature and history
Full-text, online newspapers and journals
More than 4,500 Chinese films and TV dramas
Popular magazines
Statistical resources
The Korean collection at Duke began in the late 1990s. Its strengths include:
Buddhism
Colonial literature and history
Linguistics and language teaching materials
About 2,000 films
Rubenstein Rare Book & Manuscript Library
In addition to the East Asian Collection at Duke University Libraries, students and researchers have access to Duke's Rubenstein Rare Book & Manuscript Library.  The Rubenstein Library offers materials such as: