American Literary Materials: Overview

Literary Materials | American Materials Overview | American Author List | British Materials Overview | British Author List | Drama Collections | Literary Agents | Literary Presses | Literary Scholarship
19th Century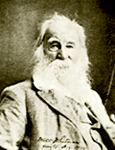 RBMSCL holds one of the three best collections of Walt Whitman materials in the world. Included in the collection are Whitman manuscripts and numerous rare editions of his works. For more information, see the finding aid.
Other 19th-century American authors extensively represented in the library include William Dean Howells, Oliver Wendell Holmes, and John Greenleaf Whittier.
The Library holds one of the two principal bodies of papers of Paul Hamilton Hayne, poet of the Confederate cause and editor of Russell's Magazine, as well as a substantial part of his personal library. It also holds significant manuscript material for some lesser-known nineteenth-century Southern authors including Thomas Holley Chivers, John Esten Cooke, Eliza DuPuy, Alexander B. Meek, E.D.E.N. Southworth, and Clara Victoria Maclean.
Late 19th/Early 20th Century
RBMSCL holds a major collection of the papers (1880s-1920s) of Thomas Nelson Page, novelist, lawyer, and diplomat.
Mid-20th Century to the Present
The principal collections of personal papers and comprehensive collections of the published works of many prominent contemporary American writers are located in RBMSCL. These include James Applewhite, Fred Chappell, Josephine Humphreys, Peggy Payne, Reynolds Price, William Styron, Anne Tyler, Kathy Acker, Richard Bausch, Robert Bausch, Sallie Bingham, George Garrett, Jim Grimsley, Robin Morgan, Gwendolyn Parker, Joe Ashby Porter, Padgett Powell, and Alix Kates Shulman. The personal papers of William Blackburn, who taught creative writing at Duke to several of these writers, are also located in the library, as are the records of the Harriet Wasserman Literary Agency, which represents Price, Humphreys, and Richard Bausch, as well Alice McDermott, Oscar Hijuelos, Saul Bellow (until recently), and many others. The library also holds significant manuscript materials for Flannery O'Connor and Carson McCullers.
The Jay B. Hubbell Center for American Literary Historiography, with the papers of distinguished scholars and critics of American literature, records of organizations such as the American Literature Section of the Modern Language Association, and those of the journal American Literature, provides documentation for change and development in the study of American Literature over the decades.