Services for First-Year Students
Welcome Class of 2020!
Duke Libraries - Here To Help You
Why Use The Library?
We make your life easier! We can help you…
Get Involved:
Quick Facts:
Books and eBooks
You can check out as many books as you like! Really!
You can keep most books for 4 weeks, and you can renew online
Duke students can also check out books from UNC, NC State and NC Central
DVDs and CDs
Lilly Library has an impressive collection of popular DVD's that you can check out
Like Music? Check out the Music Library's CD collection
You may borrow most DVD's for 1 week and CD's for 4 weeks
You may only check out one new release/Devil DVD at a time, and up to 3 additional DVD's from our main collection
Articles
To find articles from journals/newspapers/magazines, use one of our many databases
You can access library databases even when you're off campus; you just need your NetID/password
If we don't have the book or article you need, don't worry! We can always get it for you
At the library
Where Do I...?
...Find the Library?
Duke has several libraries, on both East and West Campus!
...Study?
Find the right study space here: Places to Study
Reserve a library room for group or individual study
Want to study on East Campus?
...Print & Scan?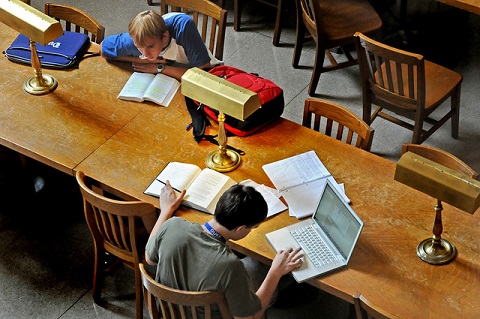 What else goes on in the Libraries?
Writing consultants are available at our Writing Studio locations:

East Campus: Lilly Library, Second Floor
West Campus: Perkins Library, Room 112
Research & Technology Spaces
The Edge: The Ruppert Commons for Research, Technology, and Collaboration (Bostock, Level 1)
The Link: Teaching and Learning Center (Perkins, Lower Level 1)
Coffee! Food!
In the libraries, but need to feed your brain?

Trinity Cafe: Coffee Shop (East Campus Union)
Lilly Library: Vending machines (Basement)
The Perk: Coffee Shop (Perkins/Bostock Libraries)
How Do I ... ?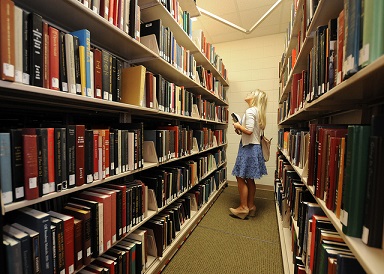 Who can help me?
...With my classroom assignment?
Most first year classes will have a librarian to provide workshops and research consultations to students. For example, there is a librarian assigned to every WR101 class, every FOCUS program, and most First-year seminars. These librarians will be your first point of contact for any assignment or question you have in a particular class.
There is also a subject librarian for every academic department and degree program in the college. As your research becomes deeper and more sophisticated, you might need to work with a specialist. You can set up an appointment to meet with a subject librarian one-on-one by following this link .
… With general questions about the library?
More than likely you'll have all kinds of questions that may have nothing to do with a specific assignment. For example, the libraries contain many resources for your leisure time as well. Or, you need to find a quiet place to study.
You will also have a librarian assigned to your residence hall, to find his or her contact information, click here.
… With a research consultation?
Research consultations are one-on-one meetings scheduled with a librarian. You bring your assignment and questions to this meeting and you and the librarian then work out what strategies and research tools might best help you formulate the bibliography for your paper. This is an excellent way to learn about library research, saving you vast amounts of time and frustration.
Research 101
Getting started: Research Process
Research is an iterative, inquiry-based process that starts when you take a fledgling topic idea and develop it into a more specific research question - or set of research questions. This page will provide basic information about finding books & articles, using advanced search strategies, and evaluating your sources.
How do I get started?
You will want to read through the requirements of your research assignment carefully, brainstorm topic ideas that interest you, and begin gathering background information on your initial topic. As you begin gathering sources, your research question may evolve and go in a different direction.
Citation 101
Citing sources doesn't have to be a difficult process. Click here for guides to the most popular citation styles, with explanations and examples.
Save time by using citation managers, which help you gather citations as you conduct your research, and generate a bibliography using your chosen citation style when you finish your project. Click below to learn more about these popular citation managers supported by Duke:
Why Cite?
Citing your sources is an important part of your research process because it enables you to:
Give credit to the sources you consulted
Substantiate the credibility of your research
Connect your work to that of other scholars
Provide your reader with sources for further exploration of the topic
Be a responsible researcher and avoid plagiarism by scrupulously following these rules:
Don't copy, quote, paraphrase or summarize any source without adequate documentation.
Don't purchase a paper by mail or email.
Never allow another person to write a paper for you.
Don't submit another person's unpublished work in your name.
Learn even more about citations by consulting our citation guide!