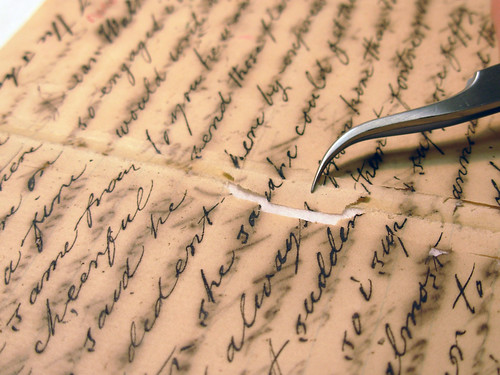 The Duke University Libraries Adopt-A-Book Program gives you the opportunity to support the conservation of library materials in need of repair. Your gift helps to keep these materials available for current and future faculty, scholars and students.
Books, manuscripts, moving images, photographs and University Archives materials are available for adoption. An electronic book plate will be put into the item's catalog record to acknowledge your gift. Adopted items are listed at the bottom of this page.
Adoption Process
A selection of available items is listed below. Please contact the head of the Conservation Services Department with your adoption choice:
Beth Doyle, Head of Conservation Services Dept.
b.doyle@duke.edu
919-660-5985
We are happy to honor someone special or recognize a special event such as graduation in the electronic bookplate. If you wish your gift to remain anonymous, we will honor that request.
Adoptable Collection Items
Adopt a Box: Conservator's Choice! With this option, we will choose an item in need of an enclosure and put your name on the electronic bookplate. The staff in the conservation lab make on average 5,000 custom enclosures a year. There is always something in the lab that needs a box. Candidates may come from any part of our collections including Rubenstein Rare Book & Manuscript Library, Duke University Archives, Music Library locked stacks, or Lilly Library locked stacks. 

Adopt for $150

NEW!

Broadway Theatre Posters  by Wendy Nelson-Cave (1993). This beautifully illustrated book looks back at over 100 years of Broadway history through the art of the theatre poster. Ephemeral by nature, theatre posters demonstrate the evolution of the medium from advertisement to art. This book is in very good condition. Because it has a lovely, original dust jacket we want to give it a custom housing to keep it in excellent condition.

(Rubenstein Rare Book & Manuscript Library)

NEW!

No: Classical Theatre of Japan  by Donald Keene (1966). This book is an amazing look into the world of Japanese theatrical tradition. It is in its original publisher's dust jacket and slipcase. However, the original slipcase is cardboard. The problem with slipcases are they can abrade the covers when the book is taken removed and put back into the slipcase. We need to create a custom housing for both the book and its slipcase so that these items remain together, but are both protected from needless wear and tear.

(Rubenstein Rare Book & Manuscript Library)

NEW!

The Moon is a Harsh Mistress , by Robert A. Heinlein (1966). Widely considered one of the best science fiction novelists, Robert Heinlein won four Hugo Awards for best novel including one for  The Moon is a Harsh Mistress. This tale of revolution and rebellion needs a protective enclosure to protect its as-issued publisher's dust jacket.

(Rubenstein Rare Book & Manuscript Library)

NEW!

The Naked and the Dead , by Norman Mailer (1948). This book recalls Mailer's military service in the Phillapines in World War II. The novel was later adapted into a film. The original New Yorker critique of the novel can be found online . This book needs an enclosure to keep the original dust jacket protected.

(Rubenstein Rare Book & Manuscript Library)

NEW!

Shakespeare in Harlem, by Langston Hughes (1947). A beautiful first edition with its own best description, "Poems syncopated and variegated in the colors of Harlem, Beale Street, West Dallas, and Chicago's South Side" (page 9). This book needs a custom enclosure to protect its publisher's original jacket.

(Rubenstein Rare Book & Manuscript Library)

ADOPTED!

Encyclopédie, ou dictionnaire raisonné des sciences, des arts et des métiers , published 1751-72, by Denis Diderot. This is the first encyclopedia to have the contents organized by human thought rather than by nature or theology. This publication was considered innovative in part because it emphasized the mechanical arts, and it named the various authors that contributed content. This complete set contains 70 volumes of text, illustrations and supplements. Each volume needs a custom-made enclosure and many need minor repair to the texts and foldouts.

66 of 70 volumes available for adoption

(Rubenstein Rare Book & Manuscript Library)

Adopted:
T. 1
Plate v. 5
Plate v.7
Plate v. 8


NEW!

The Naturalist's Library, by William Jardine (1835-1843). This 40 volume series includes  The Naturalist's Library , The Naturalist's Library: Mammalia , The Naturalist's Library: Ichthyology , and The Naturalist's Library: Ornithology . Even though the full text of these volumes are available in Hathi Trust (see catalog records for links), the online version does not do justice to the beautifully hand colored illustrations in these volumes. Each book in this series needs a four-flap enclosure to keep the binding safe. You can fund the boxing of the entire 40 volume set with one adoption.

(Rubenstein Rare Book & Manuscript Library)

An American Tragedy by Theodore Dreiser (1925, first edition). Loosely based on real events this story follows Clive Griffiths, a son of two misionaries, who takes a job as a bell hop then in a factory. After making several poor choices he ends up on trial for murder. This two-volume set has some prior repairs that are damaging the original dust jackets. The original publishers slip case is damaging the books, so an enclosure that houses the books and slip case will be made so that all three pieces are protected.


(Rubenstein Rare Book & Manuscript Library)

NEW!

Dante con lespositione di Christoforo Landino [c.2],  by Dante Alighieri (1564) Illustrated with the woodcuts from Marcolini's edition of 1544. This is also the first appearance of AB's woodcut portrait of Dante. This book's headcaps are damaged and the front board is off. It also needs a custom enclosure to protect the fragile binding.

(Rubenstein Rare Book & Manuscript Library)

Adopt for $800

Currency Collection
The Currency Collection (1746-1982) contains 4,896 pieces. All except a small number of coins and tokens are paper currency. Most of this money is domestic, but there are a limited number of foreign items — some of them quite old and interesting. Approximately two-thirds of the collection dates from the Civil War and one-fourth from the antebellum period. The collection needs new enclosures, and many of the bills need repair.

(Rubenstein Rare Book & Manuscript Library)

Adopt for $5,000

Joseph Brown Matthews Collection spans the years 1862 to 1986 and is one of our most-used collections. The collection has a variety of materials primarily relating to the research Matthews and his associates did in the area of anticommunism. The 750+ boxes contain a mix of damaged and chemically unstable materials. We must physically repair and reformat these papers in order to continue to provide access to them. These papers routinely make the list of our most requested items.

(Rubenstein Rare Book & Manuscript Library)

Adopt for $8,000

Birds of America by John James Audubon. These are stunning double elephant folios printed from 1827–1803. This set contains four volumes. Three volumes need full conservation attention to repair the broken and loose sewing and boards before the damage becomes so severe they cannot be used.

3 of 3 volumes available for adoption.

(Rubenstein Rare Book & Manuscript Library)

Adopt for $60,000 per volume
Adopted Books
To see your electronic bookplate, click on the title link then click the "details" tab in the catalog record. 
DONOR
TITLE OF WORK OR COLLECTION
ADOPTED

Scott and Kimberly Bradford in honor of Jack A. Bradford, BN Scholar ('19)

Shakespeare in Harlem , by Langston Hughes (1947) [DUKE006058327]
3/8/2019
Keven A. Klock ('01)

Villette

(1853) by Charlotte Bronte.

1/2/2019
Joseph Johnson, Jr. (A.B. '70, M.A.T. '71, Ed.D. '78)

Recueil de planches, sur les sciences, les arts liberaux, et les arts mechaniques, avec leur explication...

(plate v.5 and 8) by Denis Diderot [DUKE000936143]

11/12/2018
Macey Colvin in memory of O. Michael Colvin
The Sound and the Fury , by William Faulkner (1929). [DUKE003857045]
4/17/2018
DUL Conservation Services Dept.
Conservation Services funded the custom mount for the Nobel Prize medal in the Kenneth Arrow Papers in honor of Bob Byrd upon his retirement from Duke University Libraries.
4/30/2018
Libby McKeever (T'76)(P'09) in honor of Richard H. Montgomery and Jo Ann Montgomery Scully
History of the Indian Tribes of North America, by Thomas McKenney and James Hall (1855). [DUKE001488286]
12/15/2017
Jan Tore Hall (T'73) in memory of Inger Tavernise

The North American Indian,   by Edward Curtis (1907-1930), portfolio plates. [DUKE000435659]

12/6/2017

The Gray Family (P'21) in honor of The California Tribal College

The North American Indian,   by Edward Curtis (1907-1930), text volumes. [DUKE000435659]

11/21/2017

Jeff Kosokoff and Laura Bey

A Vindication on the Rights of Women , by Mary Wollstonecraft (1792). [DUKE002396752]


11/15/2017

Kevin A. Klock ('01) in honor of his father Douglas M. Klock ('65)

Paradise Lost, by John Milton (1669). [DUKE000219398]

6/21/2017

Maryann (T'82) and Ron Bruce (P'13)

Edwin and Terry Murray Comic Book Collection and the Comic Book and Graphic Novel Collection.
Titles adopted include: Watchmen [DUKE007672490]; Justice League of America [DUKE007540127]

12/19/2016

Bonnie Burrus Corwin (T'82)

  The Bluest Eye , by Toni Morrison.

8/19/2016

Anonymous

This generous gift will support the conservation of numerious materials. As these items come to Conservation, we will add the titles here.

11/26/2013-

7/13/2016

Travels into several remote nations of the world , by Jonathan Swift, vols. 1-2. [DUKE002166870] Read about this project on Preservation Underground.

Manual of Human Anatomy , by Robert Knox [DUKE000856887].

The question of rest for women during menstruation, by Mary Putnam Jacobi [DUKE000662895]

Biblia hepta...Libri septem , by Aegineta Paulus [DUKE000713234]

Woman and her diseases , by Edward H. Dixon [DUKE002812875]
R.P. Aloysii Novarini Veronensis , by Luigi Novarini [DUKE003474468]

Sexti libri decratalium... , by Pope Bonafice VIII [DUKE002521394]

The History of Georgia..., by Capt. Hugh McCall; copy 1, vols. 1-2 [DUKE001482533]
The Works of the Late Reverend Samuel Johnson, by Samuel Johnson [DUKE001369485]
Paradise Lost, by John Milton, c.2 [DUKE000219398]
Fair Warnings to a Careless World, by Josiah Woodward [DUKE000561222]
Carey's American Pocket Atlas, by Matthew Carey [DUKE000248330]
Journal of Major George Washingon , by George Washington [DUKE000400665]
Lives of the Popes , by Platina [DUKE001836318]
The Annals of the World, by James Ussher [DUKE002282236]
The History of the Life and Acts of...Edmund Grindal , by John Strype [DUKE002172490]
Rarum Italicarum..., by Filippo Argelati, et al. [DUKE003068539]
Journal. North Carolina. General Assembly. House of Representatives. (1789) [DUKE000279774]
Preclarissium liber completus... , by Alī Ibn Abī al-Rijāl [DUKE000786652]
Nancy Ingram Kenderdine in memory of Prof. Elizabeth Bookhout


The Color Purple, by Alice Walker [DUKE000484767]

4/22/2016
Teresa and Kevin Klock ('01) in honor of their children John H.D. Klock and Jacob M.T. Klock

A Picture Book Without Pictures [DUKE001478489] and Little Rudy and Other Tales [DUKE002125645] by Hans Christian Andersen.

4/3/2016

Andrew Boney (T'04)

Toad of Toad Hall, by A.A. Milne [DUKE006094080]

11/24/2015
Jeff Kosokoff and Laura Bey

Der swangern Frawen und Hebammen Roszgarten, by Eucharius Rosslin. [DUKE002129192]

11/23/2015
Dr. Michael Weiss

Slaughterhouse-five or The children's crusade, by Kurt Vonnegut [DUKE000000633]

Brave New World, by Aldous Huxley [DUKE001332100]

10/7/2015
Nixie Miller in honor of Bill Pitts

Catch 22 , by Joseph Heller [DUKE003234716]

3/10/2015
Mrs. Georgeann C Corey in honor of Mr. Michael Lee Corey (T'05)

Of Mice and Men , by John Steinbeck [DUKE001351443]

Old Man and the Sea , by Ernest Hemingway [DUKE001713727]

3/10/2015
Mrs. Georgeann C Corey in memory of Mr. George Nassif Corey (T'69)

Signed basketball (1992) , Artifacts and Relics Collection, 1830's-ongoing. Duke University Archives. [ UA98-85; Box 17] [DUKE003921889]

Proposed design of Duke University , drawn by the Horace Trumbauer firm for James B. Duke, 1924. Duke University Archives. [DUKE003205743]

3/9/2015
Katie Clark ('87) in honor of her mother Pamela Clark

Recueil de planches, sur les sciences, les arts liberaux, et les arts mechaniques, avec leur explication... (plate v.7) by Denis Diderot [DUKE000936143]

2/1/2015
Sarah L. Bingham

Native Son by Richard Wright (1940, first edition) [DUKE000537516]
The Common Reader , Second Series by Virginia Woolf (1932, first edition) [DUKE000027581]

10/7/2014
Barbara Bernhard Hanson ('82)

The Bell Jar by Sylvia Plath [DUKE003857200]

10/6/2014
Kevin A. Klock ('01) in honor of his father Douglas M. Klock ('65)

Lord of the Flies , by William Golding [DUKE003857078]


9/9/2014
Jeff Kosokoff and Laura Bey

Het achterhuis : dagboekbrieven van 12 Juni 1942-1 Augustus 1944 , by Anne Frank. [DUKE003857076]

7/22/2014
Rebecca Williams

Geographia vniversalis by Ptolemy (t.1) [DUKE001989929]
Encyclopédie, ou dictionnaire raisonné des sciences, des arts et des métiers, (v.1) by Denis Diderot [DUKE000362924]

7/18/2014

Ann Beman


Villette by Charlotte Bronte [DUKE003856456]

6/28/2014

Robert Joseph Kubek, MD '86


6/24/2014

Barbara Branson


Grapes of Wrath by John Steinbeck [DUKE000035394]

6/18/2014

Will Hansen and Jaime Danehey

Phrenological Description of W. Whitman , Age 29 Occupation Printer by L.N. Fowler

4/17/2014
Lauren Winner

Poems on various subjects, religious and moral by Phillis Wheatley [DUKE002363589]
4/11/2014
Deborah Jakubs and Jim Roberts
Catcher In The Rye [DUKE000035160]
4/10/2014
Michael McCahill
Stephen Fuller Papers [DUKE000854590]
3/4/2014
Beth Doyle
Greek Manuscript #2 [New Testament Gospel Lectionary] [DUKE006035633]
2/25/2014