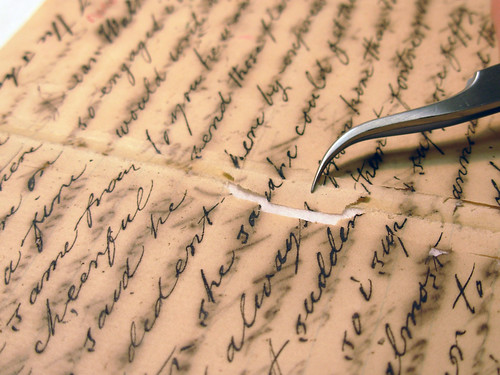 The Duke University Libraries Adopt-A-Book Program gives you the opportunity to support the conservation of library materials in need of repair. Your gift helps to keep these materials available for current and future faculty, scholars and students.
Books, manuscripts, moving images, photographs and University Archives materials are available for adoption. An electronic book plate will be put into the item's catalog record to acknowledge your gift. Adopted items are listed at the bottom of this page.
Adoption Process
A selection of available items is listed below. Please contact the head of the Conservation Services Department with your adoption choice:
Beth Doyle, Head of Conservation Services Dept.
b.doyle@duke.edu
919-660-5985
We are happy to honor someone special or recognize a special event such as graduation in the electronic bookplate. If you wish your gift to remain anonymous, we will honor that request.
Adoptable Collection Items
Adopt a Box: Conservator's Choice! With this option, we will choose an item in need of an enclosure and put your name on the electronic bookplate. The staff in the conservation lab make on average 5,000 custom enclosures a year. There is always something in the lab that needs a box. Candidates may come from any part of our collections including Rubenstein Rare Book & Manuscript Library, Duke University Archives, Music Library locked stacks, or Lilly Library locked stacks. 

Adopt for $150
Gone with the Wind (1936) [Rubenstein c.2] by Margaret Mitchell. This is a first edition, first printing. Needs an enclosure to keep it in good condition. [DUKE000035416]
Adopted!
The Negro & Indian's Advocate (1685) [DUKE001228065] and Supplement [DUKE001225938]  by Morgan Godwyn. Cambridge University Press summarizes, "Godwyn insists that black Africans have the same bodily constitution and intellectual faculties as Europeans and that differences between them are not innate, but rather the products of culture and education. He is, however, promoting the conversion and humane treatment of slaves, not their liberation, and he argues that a Christian slave is more docile than a heathen one." The main title and its supplement are in need of enclosures.
Adopt for $50
東海道風景之圖 / Tōkaidō fūkei no zu (between 1780 and 1820) [DUKE010009062] by 松楽齊. / Shōrakusai. These 69 paintings are beautifully bound in accordion style in a silk binding and traditional clasped-box. Even though the text is protected, we want to create an enclsoure so this lovely publisher's box can be protected, too.
Adopt for $50
Asian Student Association (Box 3 and Box 5) [DUKE003258669] These two boxes are part of the Asian Student Association papers. The collection contains many scrapbooks with pictures and ephemera depicting life at the university, and the organization's events. These need better housing to protect the scrapbooks. 
Adopt both for $50


Kindred (1979) [DUKE007712003] by Octavia Butler. Rubenstein Library copy 1: Publisher's case binding with black cloth spine and brown paper sides. In original pictorial dust jacket with illustration by Larry Schwinger. Inscribed by Octavia Butler to Charles Brown.

Their Eyes Were Watching God (1937) [DUKE002932526] by Zora Neal Hurston. First edition as issued. 

Two important works in the American lexicon are in excellent condition. They need enclosures to make sure they stay that way.

Adopted!

NEW!

東海道名所圖會 / Tōkaidō meisho zu (1797) is a six volume set of traditional Japanese stab bindings. These beautiful books depict Japanese life. Each of these volumes needs a custom enclosure to protect the delicate paper and woodcuts.

(Rubenstein Rare Book & Manuscript Library)

ADOPTED!

NEW!

The Sweet Flypaper of Life , by Roy DeCarava (1955)

A Negro Explorer at the North Pole , by Matthew Alexander Henson (1912)

Roots , by Alex Haley (1976)

Invisible Man , by Ralph Ellison (1952)

 

These four classics are in very good condition but require custom enclosures to make sure they stay that way.

(Rubenstein Rare Book & Manuscript Library)

ADOPTED!

 

A Game of Thrones , by George R.R. Martin (1996). Winter is coming, and you should adopt this book. This one is unusal as it is accompanied by an early version of dust jacket illustrated by Stephen Youll, with border designed by Ron Zim; the jacket design is by Jamie S. Warren Youll. This book is part of the Locus Science Fiction Foundation Collection.

(Rubenstein Rare Book & Manuscript Library)

Adopt for $150

SUPPORT WOMEN BOOKBINDERS!

H. McLanahan bindings (set 1). These may all be written by Bernard Shaw, but the McLanahan bindings are what make these books stunning. They need simple four-flap boxes to protect the delicate gold tooling. The nine books are:

The philanderer : a topical comedy of the year 1893 (B. Shaw)
Man of Destiny: a trifle (B. Shaw)
Arms and the man : an anti-romantic comedy in three acts (B. Shaw)
Candida: a mystery (B. Shaw)
Captain Brassbound's Conversion: and adventure (B. Shaw)
John Bull's Other Island: in four acts (B. Shaw)
Overruled; & The darkl ady of the sonnets (B. Shaw)
How He Lied to her Husband; Admirable Bashville (B. Shaw)
Major Barbara: in three acts (B. Shaw)

(Rubenstein Rare Book & Manuscript Library)

 

Adopt set of 9 for $200

Children and Gardens by Gertrude Jekyll (London, 1933). Jekyll was a British horticulturist, garden designer, writer, and artist. She created over 400 gardens in the UK, Europe, and the US. This volume includes instructions on gardening written for children (and their adults); recipes; and illustrations including Ms. Jekyll's cat.

Chinese Women Speak by Dymphna Cusack (Sydney, 1958). This is Cusack's account of her travels in China in the mid 1950's. Valuable for its verbatim reports of her interviews with Chinese women.

New Plays for Women and Girls by Samuel French LTD (New York, Los Angeles, London, 1932). This volume contains fifteen one-act plays.

These three volumes were acquired as part of the Lisa Unger Baskin Collection . Each book's dust jacket needs some conservation treatment to stabilize small tears. They also need custom enclosures to protect the bindings.

(Rubenstein Rare Book & Manuscript Library)

Adopt three for $200

Encyclopédie, ou dictionnaire raisonné des sciences, des arts et des métiers , published 1751-72, by Denis Diderot. This is the first encyclopedia to have the contents organized by human thought rather than by nature or theology. This publication was considered innovative in part because it emphasized the mechanical arts, and it named the various authors that contributed content. This complete set contains 70 volumes of text, illustrations and supplements. Each volume needs a custom-made enclosure and many need minor repair to the texts and foldouts. [ Text volumes ] [ Plate volumes ]

61 of 70 volumes available for adoption

(Rubenstein Rare Book & Manuscript Library)

Adopt for $300 per volume

Adopted:
T. 1
T. 10
T. 13
Plate v. 1
Plate v. 2
Plate v. 5
Plate v.7
Plate v. 8
Plate v. 11

Dante con lespositione di Christoforo Landino [c.2] , by Dante Alighieri (1564) Illustrated with the woodcuts from Marcolini's edition of 1544. This is also the first appearance of AB's woodcut portrait of Dante. This book's headcaps are damaged and the front board is off. It also needs a custom enclosure to protect the fragile binding.

(Rubenstein Rare Book & Manuscript Library)

Adopt for $300

Birds of America by John James Audubon . These are stunning double elephant folios printed from 1827–1803. This set contains four volumes. Three volumes need full conservation attention to repair the broken and loose sewing and boards before the damage becomes so severe they cannot be used.

3 of 3 volumes available for adoption.

(Rubenstein Rare Book & Manuscript Library)

Adopt for $30,000 per volume
Adopted Books
To see your electronic bookplate, click on the title link then scroll down to "Local Notes." 
DONOR
TITLE OF WORK OR COLLECTION
ADOPTED
Kevin A. Klock (2001) and Teresa Klock-Taube
The Sweet Flypaper of Life , by Roy DeCarava (1955)

A Negro Explorer at the North Pole , by Matthew Alexander Henson (1912)
Roots , by Alex Haley (1976)
Invisible Man , by Ralph Ellison (1952)

1/4/2023
CM Boston Cote (T 2006) in honor of Emin Hadziomanovich (T 2006)
Emoji Dick (2010) by Fred Beneson  [DUKE005821331]
11/29/2022
Joseph Johnson, Jr. (A.B. 2970, M.A.T. 1971, Ed.D. 1978)
Leaves of Grass by Walt Whitman (Preface to the original edition 1855) [DUKE000426381]
11/1/2022

Lesley Looper (T 1986) in honor of Laura Jorgens Hörnell (T 2011) and Johan Hörnell (T 2013)

Planches de Seba (1831) (2 vols)  by Albertus Seba [DUKE002499057]
8/25/2022
Duke University Libraries in honor of Ann Wolfe
8/17/2022
Cory Sherb in memory of Warren Shieh (T 1999)

Authored by Bernard Shaw. Fine bindings by H. McLanahan (set 2)

The Devil's Disciple: A melodrama in three acts  [DUKE008916037]
Widower's Houses: A play  [DUKE008916023]
Caesar and Cleopatra: A history  [DUKE008916377]
Fanny's First Play: An easy play for a little theatre  [DUKE008921645]
The shewing-up of Blanco Posnet : a sermon in crude melodrama  [DUKE008921766]
Androcles and the Lion: A fable play  [DUKE008921754]
The Doctor's Dilemma: A tragedy  [DUKE008921773]
Mrs. Warren's Profession: A play in four acts  [DUKE008916378]
You Never Can Tell: A comedy in four acts  [DUKE008921643]

6/16/2022
Andrew Boney (T 2004)
French Wall Decoration, by Paul Balin [DUKE001553487]
6/2/2022
Duke University Libraries in honor of Deborah Jakubs

Sophie's Choice, by William Styron [DUKE000409599, Gift of Ariel Dorfman, D04455097Y]

Sophie's Choice, by William Styron, copy 1 [DUKE000530212]

בחירתה של סופי / Beḥiratah shel Sofi, by William Styron [DUKE004671959, copy 2]

Sophie's keuze, by William Styron [DUKE000440648]

Sophie választ : regény, by William Styron [DUKE000872546]

Sophie' nin seçimi, by William Styron [DUKE000766244]

Sofī no sentaku, by William Styron, vols 1 and 2 [DUKE002133890]

La scelta di Sophie, by William Styron, copies 1 and 2 [DUKE000450125]

Sophies valg, by William Styron, copies 1 and 2 [DUKE000452080]

Wybór Zofii, by William Styron [DUKE001118195]

Sophiina voĺba, by William Styron [DUKE000836306]

ソフィーの選択. 1 / Sofī no sentaku. 1., by William Styron [DUKE003311101]

Sofien valinta, by William Styron [DUKE000493607]

Sophiejina odločitev, by William Styron [DUKE000543006]

Sophiina volba, by William Styron [DUKE000675095]

William Styron papers, 1855-2019 and undated. Box SC4, c.1 [DUKE002532590]

5/13/2022
Duke University Libraries in honor of Tom Hadzor
5/1/2022
David Ferriero in honor of Deborah Jakubs

Don Quixote de la Mancha, by Miguel de Cervantes Saavedra (1837). [DUKE009852045]

12/14/2021
Beth Doyle in honor of Dee McCullough

Chrysalis, by Julie Chen (2014) [DUKE006625280]

12/2/2021
Jim Curry in honor of Ann Q. Curry (1965)

Lucy Gayheart by Willa Cather (1935) [DUKE000041465]

The Wit of Women by Kate Sanborn (1885) [DUKE002031545]

Tales of New England by Sarah Orne Jewett (1894) [DUKE001393858]

11/24/2021
Deborah Jakubs and Jim Roberts
The Natural History of Foreign Butterflies by James Duncan, N.W.S. (1837) [DUKE010010335]

Le Voyage de L'Isabella au Centre de la Terre by Léon Crux (1922) [DUKE010156607]


東海道五拾三次 / Tōkaidō gojūsantsugi by 歌川国盛画 / Utagawa Kunimori ga (1844) [DUKE010009064]

11/2/2021
Leanora Minai
Life of Mme. de la Rochefoucauld... (1878) [DUKE010113150]

Joan of Arc , by Robert Southey (1798) [DUKE009837830]

Famous Women: An outline of feminine achievement... by Joseph Adelman (1928) [DUKE010153769]
11/1/2021
Joseph Johnson, Jr. (A.B. 1970, M.A.T. 1971, Ed.D. 1978)

Kreutter Buch by Pedanius Dioscorides (1546) [DUKE010489489]

10/27/2021
C in memory of his grandparents Barbara and John D. Klock (1937)

Ulysses ,  by James Joyce (1934) [DUKE001377975]

10/27/21
Linda Zimmerman

Old New York, by Edith Wharton (1924) [DUKE008203807]

2/1/2021
Dracine Hodges

Dune , by Frank Herbert (1965). This book is part of the Locus Science Fiction Foundation Collection . [DUKE008661404]

12/18/2020
Kim Reed in honor of Professor Victor Strandberg

The Game of Thrones , by George R.R. Martin (1996) [DUKE008700255]

The Left Hand of Darkness , by Ursula K. LeGuin (1969) [DUKE001477787]

The Citadel of Autarch , by Gene Wolfe (1983) [DUKE000496404]

6/1/2020
Funded by the Strategic Initiatives team in honor of Barbara Collins

Lectures on Art  , by John Ruskin [DUKE008922727].

Ionica  , by William Johnson Corey [DUKE008922953]

The Vision, or Hell, Purgatory, and Paradise of Dante Alighieri,  by Rev. Henry Francis Cary, M.A. [DUKE008923076]

Les confessions de J.-J. Rousseau , by Jean-Jacques Rousseau [DUKE008922761].

The Aeneids of Virgil done into English Verse by William Morris , by Virgil [DUKE008923090].

9/27/2020
Joseph Johnson, Jr. (A.B. 1970, M.A.T. 1971, Ed.D. 1978)

Recueil de planches, sur les sciences, les arts liberaux, et les arts mechaniques, avec leur explication...  (text volumes 10 and 13) by Denis Diderot 
[ DUKE000362924 ]

An American Tragedy  by Theodore Dreiser  [DUKE000072227]

9/15/2020
In honor of Dan Wiercioch

Mark Twain

Tom Sawyer Abroad [DUKE000111073]

The Guilded Age [DUKE000504276]

1/17/2020
Megan Crain in honor of Stephen G. Crain (G 2016)
Salem's Lot [DUKE003251554] , Stranger in a Strange Land [DUKE000070744] , The Shining [DUKE003251548]

, by Stephen King.

11/15/2019
Georgeann C. Corey and George Corey (T 1969) in honor of Elijah George Corey.

The Naturalist's Library by William Jardine (1835-1843) . [DUKE000217905] 7 vol.
The Naturalist's Library: Ichthyology [DUKE000309601] 6 vol.
The Naturalist's Library: Mammalia   [DUKE000363217] 13 vol.
The Naturalist's Library: Ornithology [DUKE000363589] 14 vol.

11/6/2019
Joseph Johnson, Jr. (A.B. 1970, M.A.T. 1971, Ed.D. 1978)

Recueil de planches, sur les sciences, les arts liberaux, et les arts mechaniques, avec leur explication...

(plate volumes 1, 2, and 11) by Denis Diderot




[DUKE000936143]

9/16/2019
Lesley Looper (1986) in memory of LaNelle Edwards Looper (1953, 1955)
Broadway Theatres Posters by Wendy Nelson-Cave (New York, N.Y. : Smithmark, c1993) [DUKE002197330]
6/25/19
Kim Reed in honor of Professor Victor Strandberg
Lord of the Rings (v. 1-3) by J.R.R. Tolkein (London, 1954-1955).  [DUKE008699170]
4/12/19
Dracine Hodges
By Octavia Butler

Wild Seed (Garden City, New York; 1980) [DUKE008109809]

Clay's Ark (New York; 1984) [DUKE003314481]

Mind of My Mind (Garden City, New York; 1977) [DUKE000241715]

Patternmaster (Garden City, New York; 1976) [DUKE008109724]

 

4/12/2019
Wyatt Bradford in honor of Jack A. Bradford, BN Scholar (2019)
The Hobbit by J.R.R. Tolkein (Boston and New York, 1938). [DUKE008708037]
4/1/2019
Scott and Kimberly Bradford in honor of Jack A. Bradford, BN Scholar (2019)
Shakespeare in Harlem , by Langston Hughes (1947) [DUKE006058327]
3/8/2019
Kevin A. Klock (2001)

Villette

(1853) by Charlotte Bronte. [DUKE002242048]

1/2/2019
Joseph Johnson, Jr. (A.B. 2970, M.A.T. 1971, Ed.D. 1978)

Recueil de planches, sur les sciences, les arts liberaux, et les arts mechaniques, avec leur explication...

(plate v.5 and 8) by Denis Diderot [DUKE000936143]

11/12/2018
Macey Colvin in memory of O. Michael Colvin
The Sound and the Fury , by William Faulkner (1929). [DUKE003857045]
4/17/2018
DUL Conservation Services Dept.
Conservation Services funded the custom mount for the Nobel Prize medal in the Kenneth Arrow Papers in honor of Bob Byrd upon his retirement from Duke University Libraries.
4/30/2018
Libby McKeever (T 1976)(P 2009) in honor of Richard H. Montgomery and Jo Ann Montgomery Scully
History of the Indian Tribes of North America, by Thomas McKenney and James Hall (1855). [DUKE001488286]
12/15/2017
Jan Tore Hall (T 1973) in memory of Inger Tavernise

The North American Indian,   by Edward Curtis (1907-1930), portfolio plates. [DUKE000435659]

12/6/2017

The Gray Family (P 2021) in honor of The California Tribal College

The North American Indian,   by Edward Curtis (1907-1930), text volumes. [DUKE000435659]

11/21/2017

Jeff Kosokoff and Laura Bey

A Vindication on the Rights of Women , by Mary Wollstonecraft (1792). [DUKE002396752]

11/15/2017

Kevin A. Klock (2001) in honor of his father Douglas M. Klock (1965)

Paradise Lost, by John Milton (1669). [DUKE000219398]

6/21/2017

Maryann (T 1982) and Ron Bruce (P 2013)

Edwin and Terry Murray Comic Book Collection and the Comic Book and Graphic Novel Collection.
Titles adopted include: Watchmen [DUKE007672490]; Justice League of America [DUKE007540127]

12/19/2016

Bonnie Burrus Corwin (T 1982)

The Bluest Eye , by Toni Morrison. [DUKE003164599]

8/19/2016

Anonymous

This generous gift will support the conservation of numerious materials. As these items come to Conservation, we will add the titles here.

11/26/2013-

7/13/2016

 

Travels into several remote nations of the world , by Jonathan Swift, vols. 1-2. [DUKE002166870] Read about this project on Preservation Underground.

 
 

Manual of Human Anatomy , by Robert Knox [DUKE000856887].

 
 

The question of rest for women during menstruation, by Mary Putnam Jacobi [DUKE000662895]

 
 

Biblia hepta...Libri septem , by Aegineta Paulus [DUKE000713234]

 
 
Woman and her diseases , by Edward H. Dixon [DUKE002812875]
 
 
R.P. Aloysii Novarini Veronensis , by Luigi Novarini [DUKE003474468]
 
 

Sexti libri decratalium... , by Pope Bonafice VIII [DUKE002521394]

 
 
The History of Georgia..., by Capt. Hugh McCall; copy 1, vols. 1-2 [DUKE001482533]
 
 
The Works of the Late Reverend Samuel Johnson, by Samuel Johnson [DUKE001369485]
 
 
Paradise Lost, by John Milton, c.2 [DUKE000219398]
 
 
Fair Warnings to a Careless World, by Josiah Woodward [DUKE000561222]
 
 
Carey's American Pocket Atlas, by Matthew Carey [DUKE000248330]
 
 
Journal of Major George Washingon , by George Washington [DUKE000400665]
 
 
Lives of the Popes , by Platina [DUKE001836318]
 
 
The Annals of the World, by James Ussher [DUKE002282236]
 
 
The History of the Life and Acts of...Edmund Grindal , by John Strype [DUKE002172490]
 
 
Rarum Italicarum..., by Filippo Argelati, et al. [DUKE003068539]
 
 
Journal. North Carolina. General Assembly. House of Representatives. (1789) [DUKE000279774]
 
 
Preclarissium liber completus... , by Alī Ibn Abī al-Rijāl [DUKE000786652]
 
 
 
 
Nancy Ingram Kenderdine in memory of Prof. Elizabeth Bookhout

The Color Purple, by Alice Walker [DUKE000484767]

4/22/2016
Teresa and Kevin Klock (2001) in honor of their children John H.D. Klock and Jacob M.T. Klock

A Picture Book Without Pictures [DUKE001478489] and Little Rudy and Other Tales [DUKE002125645] by Hans Christian Andersen.

4/3/2016

Andrew Boney (T 2004)

Toad of Toad Hall, by A.A. Milne [DUKE006094080]

11/24/2015
Jeff Kosokoff and Laura Bey

Der swangern Frawen und Hebammen Roszgarten, by Eucharius Rosslin. [DUKE002129192]

11/23/2015
Dr. Michael Weiss

Slaughterhouse-five or The children's crusade, by Kurt Vonnegut [DUKE000000633]

Brave New World, by Aldous Huxley [DUKE001332100]

10/7/2015
Nixie Miller in honor of Bill Pitts

Catch 22 , by Joseph Heller [DUKE003234716]

3/10/2015
Mrs. Georgeann C Corey in honor of Mr. Michael Lee Corey (T 2005)

Of Mice and Men , by John Steinbeck [DUKE001351443]

Old Man and the Sea , by Ernest Hemingway [DUKE001713727]

3/10/2015
Mrs. Georgeann C Corey in memory of Mr. George Nassif Corey (T 1969)

Signed basketball (1992) , Artifacts and Relics Collection, 1830's-ongoing. Duke University Archives. [ UA98-85; Box 17] [DUKE003921889]

Proposed design of Duke University , drawn by the Horace Trumbauer firm for James B. Duke, 1924. Duke University Archives. [DUKE003205743]

3/9/2015
Katie Clark (1987) in honor of her mother Pamela Clark

Recueil de planches, sur les sciences, les arts liberaux, et les arts mechaniques, avec leur explication... (plate v.7) by Denis Diderot [DUKE000936143]

2/1/2015
Sarah L. Bingham

Native Son by Richard Wright (1940, first edition) [DUKE000537516]
The Common Reader , Second Series by Virginia Woolf (1932, first edition) [DUKE000027581]

10/7/2014
Barbara Bernhard Hanson (1982)

The Bell Jar by Sylvia Plath [DUKE003857200]

10/6/2014
Kevin A. Klock (2001) in honor of his father Douglas M. Klock (1965)

Lord of the Flies , by William Golding [DUKE003857078]

9/9/2014
Jeff Kosokoff and Laura Bey

Het achterhuis : dagboekbrieven van 12 Juni 1942-1 Augustus 1944 , by Anne Frank. [DUKE003857076]

7/22/2014
Rebecca Williams

Geographia vniversalis by Ptolemy (t.1) [DUKE001989929]
Encyclopédie, ou dictionnaire raisonné des sciences, des arts et des métiers, (v.1) by Denis Diderot [DUKE000362924]

7/18/2014

Ann Beman

Villette by Charlotte Bronte [DUKE003856456]

6/28/2014

Robert Joseph Kubek, MD 1986

6/24/2014

Barbara Branson

Grapes of Wrath by John Steinbeck [DUKE000035394]

6/18/2014

Will Hansen and Jaime Danehey

Phrenological Description of W. Whitman , Age 29 Occupation Printer by L.N. Fowler

4/17/2014
Lauren Winner
Poems on various subjects, religious and moral by Phillis Wheatley [DUKE002363589]
4/11/2014
Deborah Jakubs and Jim Roberts
Catcher In The Rye [DUKE000035160]
4/10/2014
Michael McCahill
Stephen Fuller Papers [DUKE000854590]
3/4/2014
Beth Doyle
Greek Manuscript #2 [New Testament Gospel Lectionary] [DUKE006035633]
2/25/2014