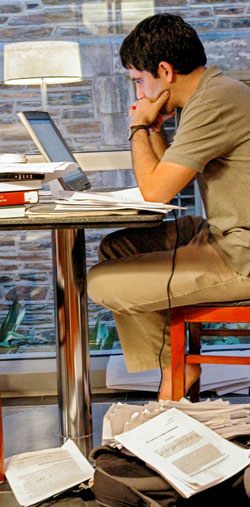 Extended library hours
---
Quiet study areas
Quiet spaces (snacks permitted): Nicholas Reading Room on the second floor of Bostock or the fourth floor of Perkins & Bostock — the entire fourth floor is devoted to quiet study.
Food-free places to concentrate: Thomas Room in Lilly Library, the Carpenter Reading Room in Bostock Library, or the Gothic Reading Room in Rubenstein Library.
Make any space in the library a little quieter by asking for a free pair of ear plugs at the Link, Perkins, Lilly or Music Service Desks.
---
Group study and project spaces
Looking for a group study room? Reserve a space for 3 hours at a time. Need to reserve another room during finals? Contact emily.daly@duke.edu for more info.
Exclusively during finals! Rubenstein 350, Perkins 318, and Bostock 225 are open for students on a first-come, first-accommodated basis from 5 p.m. to 8 a.m. from Friday, December 8 through Monday, December 18.
---
Help with papers and projects
---
Chargers, DVD drives, dry erase markers and more
Stop by the Lilly or Music Service Desks or Link Help Desk in Perkins to check out a phone or laptop charger, and pick up an external DVD drive at Lilly. Check out dry erase markers at the Lilly, Music, or Perkins Service Desks.
---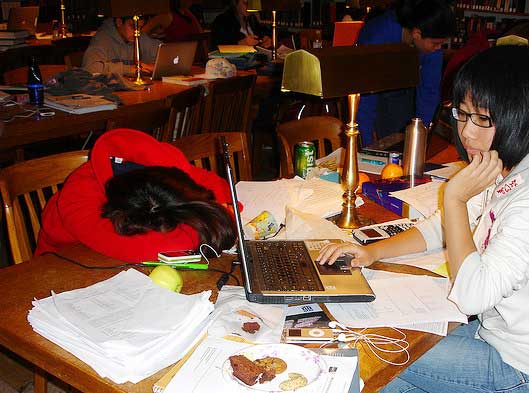 Take a break!
Wednesday, December 6: Get research and writing help, and re-charge with coloring, button-making, and snacks at the Long Night Against Procrastination from 7 to 11 p.m. in The Edge.
Monday, December 11: Enjoy snacks at Lilly Library at 8 p.m.
Tuesday, December 12 to Monday, December 18: De-stress with games, puzzles, crafts, and snacks in the Relaxation Room in Lilly Library.
Wednesday, December 13: Puppies in Perkins from 1 to 3 p.m. in Perkins 217
Anytime! Take a breather in the Prayer and Meditation Room (Perkins 220) or in the newly opened OASIS Perkins (Perkins 418)
---
New this semester!
Check out the Co-Lab@Lilly where you will find 3D printers, power tools, and multimedia software.
---
Finished with your papers and projects?