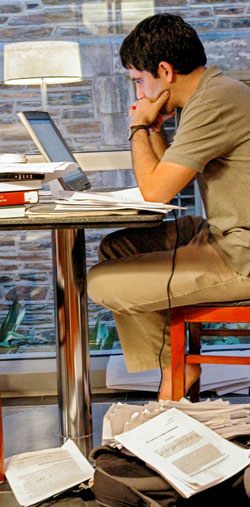 Extended library hours
---
Quiet study areas
Quiet spaces (snacks permitted): Nicholas Reading Room on the second floor of Bostock or the fourth floor of Perkins & Bostock — the entire fourth floor is devoted to quiet study.
Quiet spaces (food-free): Thomas Room in Lilly Library, the Carpenter Reading Room in Bostock Library, or the Gothic Reading Room in Rubenstein Library.
Make any space in the library a little quieter by asking for a free pair of ear plugs at the Perkins, Lilly or Music Service Desks.
Exclusively during finals
Rubenstein 350, Rubenstein 351, Bostock 127 (The Edge Workshop Room) and Bostock 225 are open for students on a first-come, first-accommodated basis from 5 p.m. to 8 a.m. from Saturday, December 7 through Monday, December 16.
Students may request the following meeting rooms for study purposes Bostock 039 and 042, Perkins 118, 217 (Korman Assembly Room), and 218. Contact Lenora Gilbert for more information: lenora.gilbert@duke.edu.
---
Group study and project spaces
---
Research Help
---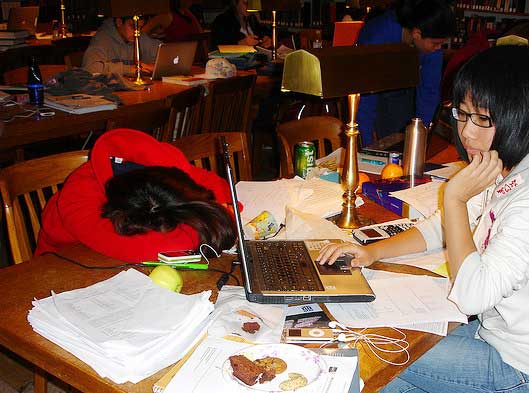 Take a break!
Wednesday, December 4: Long Night Against Procrastination. Spend an evening getting on top of everything you have to do - or just come and de-stress with our soothing activities, door prizes, and free coffee and snacks! Bostock Library, 7-11 p.m.
Thursday, December 5: Papercrafts in Lilly's CoLab. Take a few minutes to make cards, a collage or a fantastic origami figure. All supplies provided. Lilly's CoLab, 4 to 5:30 PM.
Saturday, December 7: Stampede of Love: Miniature Therapy Horses at Lilly. Finals have you feeling stressed? Miniature therapy horses are coming to help! Stampede of Love will be at Lilly Library, Saturday, December 7th from Noon to 2 PM.
Monday, December 9: Lilly Study Break. Need to re-charge while studying? Free event with savory, sweet, and healthy snacks. Lilly Library, 8 PM.
Tuesday, December 10 to Monday, December 16: Lilly Relaxation Station with games puzzles, crafts, and more!
---
Finished with your papers and projects?