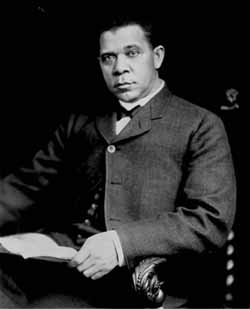 Trinity College required Chapel services for all students twice a week. When John C. Kilgo was president (1894-1910), he personally conducted the Chapel exercises. The compulsory nature undoubtedly dulled student interest, although one young man reluctantly admitted that Kilgo's superb oratory and penchant to invite surprise guests often made attendance worthwhile.
When the Durham County Colored Fair opened for its annual October run in 1896, few were surprised that Kilgo was invited to give the opening speech. As an idealistic yet activist churchman, it was not out of character for him to speak before predominantly black audiences. But it was surprising for him, with faculty approval, to suspend college classes for half a day so students could attend the Fair. The reason was not Kilgo's opening remarks but those of the featured speaker, the renowned African-American leader of the day, Booker T. Washington.
Even more surprising and unprecedented was Kilgo's invitation to Washington to speak at Chapel exercises on the Trinity campus while he was in town. Washington thought enough of the invitation to write in his acclaimed autobiography, Up From Slavery, "It has been my privilege to deliver addresses at many of our leading colleges including Harvard, Yale, Williams, Amherst, Fisk, the University of Pennsylvania, Wellesley, the University of Michigan, Trinity College in North Carolina, and many more." Why did he include Trinity College in his list? Because Trinity was the first white institution of higher education in the south to extend Washington an invitation to speak on its campus.
Unfortunately, neither the local nor the state press reported on the speech on campus. Washington's invitation and reception, however, was reported by the national progressive weekly magazine, Outlook. It noted that Washington's speech was received with "marked enthusiasm" and that his entourage of a half-dozen colleagues was treated with the "greatest courtesy," even receiving a "hearty college yell" by the students as they departed the campus.
The only campus publication of the day, The Trinity Archive, reported on Washington's visit in its November issue. Even though the content of his speech was not covered, his appearance obviously impressed the students. Washington's sincerity, devotion, simple bearing, and honest and conscientious service to his people elicited admiration. The editor concluded his comments saying, "We are glad that our college community gave him the welcome and hearing that is due to all truth from whatever source it may come."
Apparently, Washington never forgot his reception at Trinity. Eight years later, he wrote alumnus Walter Hines Page that Trinity students had sought a conversation with him aboard the train on his most recent trip north. Even though Washington's visit was not widely publicized, it remains significant in the history of Trinity and Duke. It shows that the celebrated case of academic freedom, the Bassett Affair in 1903, was not without precedent. In the words of Louis R. Harlan, Washington's biographer and editor of his published papers, his speech on campus in 1896 reveals that the college trustees' defense of Professor John Spencer Bassett "was rooted in an atmosphere of comparative racial liberalism at Trinity College all through the Kilgo era."
---
William E. King, University Archivist, 1972-2002.
This article originally appeared in Duke Dialogue March 27, 1992. The quote from Harlan is from Louis R. Harlan to William E. King, February 8, 1978, Archives biographical file on Booker T. Washington