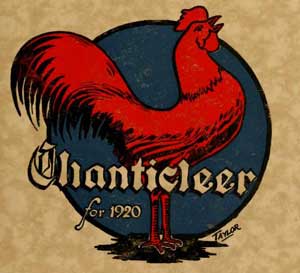 In the fall of 1911, members of the Trinity College Class of 1912 began a movement for a yearbook, or "annual" as such books were then called.  The history of the yearbook's founding can be traced in the student newspaper, The Chronicle. An article in the January 10, 1912 issue states that over 100 names for the proposed book had been submitted by the students, and that the name would be selected on January 15. The paper did not report on the selection procedure or the results, but the first use of the name in The Chronicle was on February 21, 1912 (see "Pictures for Annual In"). The first issue of the yearbook came out in May 1912.
There are various theories as to why the name, The Chanticleer, was chosen:
During the early twentieth century a rooster was a popular symbol meaning "an announcement to make" or "something to crow about." Used as a verb, "to chanticleer" means "to crow." The 1912 yearbook, as well as subsequent issues (right), featured rooster icons on the title page, endpapers, and throughout the illustrations of the yearbook.
 
At the time, a popular actress, Maude Adams, was appearing in "Chantecler : a play in four acts" by Edmond Rostand (1868-1918).
 
It has been suggested that a rooster was Trinity's mascot before the Blue Devil was adopted in 1922. Circumstantial evidence has been found to support this theory, including a 1919 photo of the College Band with a rooster pictured on the band's bass drum head. At the time, it was not unusual to see chickens on campus; the idea for the mascot could have come from that.
 
It is taken from The Nun's Priest Tale in Chaucer's The Canterbury Tales. A presentation called "The Canterbury Pilgrims," an adaptation of the book, had been made at Trinity in 1911 (see article "Coburn Players Coming" from the February 11, 1911 issue of The Chronicle).
An article in the 1937 issue of the Chanticleer about its history claims the second theory as the reason for the yearbook's name.
With the exception of 1918 and 1919, every yearbook has been entitled The Chanticleer or just Chanticleer. Because so many students left for military service in 1918, a yearbook was not published that year, but The Trinity Archive featured senior portraits and coverage of the year's activities. The following year, the annual was entitled Victory in celebration of the end of the war and to commemorate the twenty-one Trinity College students who lost their lives in World War I.
---
For Further Research
---
Article written by Tom Harkins, former Associate University Archivist.