Completed: 1898
Architect: Unknown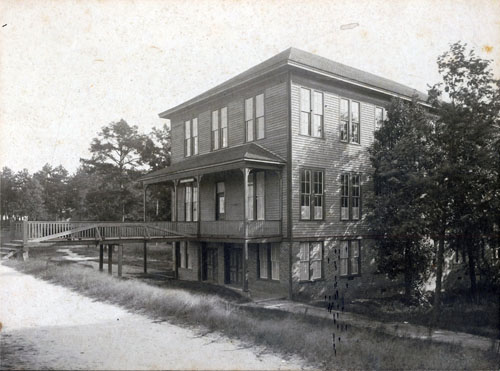 The son of Benjamin N. and Sarah P. Duke, Angier B. Duke (1884-1923) was a member of the Trinity College Class of 1905. He was elected a Trustee of Trinity College in 1913. In 1921, he was elected vice president of the Alumni Association, ascending to the presidency of the association the following year. A "college man" to the end, when Angier Duke passed away in 1923 he left $250,000 to the college in his will.
The first modern gymnasium built in the state, the Angier Buchanan Duke Gymnasium was completed in 1898. Much of the lumber for the building was taken from Blackwell Park's grandstand, located on the west side of the park's race track. The nickname "The Ark" comes from the narrow enterance walkway that forced students to enter the building two by two.
The building was primarily used for gymnastics for its first 24 years, and had a large wooden tub in the basement that served as a swimming pool. On March 2, 1906, the building was also the site of the second intercollegiate basketball game in the state between Trinity College and Wake Forest. In the fall of 1928, the building was converted into the University Laundry. After a 1933 remodeling by Sandals, a Woman's College honorary sorority, it was used as a student recreation center, and had a game room and bowling alley in the basement. In the 1970s, the building was converted into a nightclub and coffeehouse. Since the 1980s, a dance studio has been located on The Ark's main floor, with a dance practice studio and photography studio in the basement.
For Further Research: