Who was Julian Carr?
Julian Shakespeare Carr (1845-1924) was a businessman who worked in a number of industries: tobacco, banking, mills, railroads, and utilities, among others. Born in Chapel Hill, he served as a private in the Confederate Army and briefly attended the University of North Carolina at Chapel Hill. Carr joined the W. T. Blackwell and Company in 1870, and soon held ownership. He spearheaded the Bull Durham brand and advertising campaign.
Carr's relationship with Trinity began in 1880, when he financially assisted the struggling school. He served as a trustee from 1882 to 1895. During that period, the school faced serious financial problems, and Carr, along with James A. Gray and John W. Alspaugh, formed a Committee of Management to oversee the school from 1885 to 1887. Carr's gift of $10,000 in stocks in 1887 was the largest gift ever received by the college at that time. In 1890, Carr offered 62 acres of land in Durham as part of an offer, along with Washington Duke, to entice Trinity to move to the young city. That land is present day East Campus.
Carr was known for his philanthropy, and he supported numerous organizations and causes. He was a donor of a site for the Durham Public Library, the first publicly supported library in the state. In addition to his giving to Trinity, Carr also donated to the University of North Carolina (where he also served as a trustee), Davidson, Wake Forest, and many other colleges. He also donated funds to African-American institutions, such as the Training School for Colored People in Augusta, Georgia. Carr was also one of the financial sponsors of Charlie Soong, Trinity's first international student, and stayed close with Soong and his family afterwards.
Although he only rose to the rank of private in the Civil War, Carr served as the commander of the United Confederate Veterans of North Carolina, and adopted and used the honorary title of General.
When was Carr Building named for Julian Carr?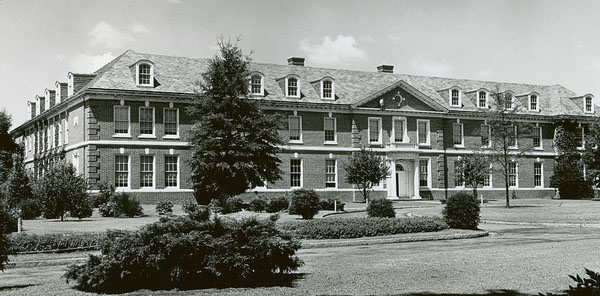 The building itself was constructed in 1927 as part of the redesign and expansion of East Campus by Julian Abele and the Horace Trumbauer firm. For the first four years of its life, it was known as the Classroom Building; the other new buildings on East and West Campus also remained unnamed.
Just before the brand-new West Campus opened for the Fall 1930 semester, Carr Building, along with eleven of the other new buildings, was formally named during the September 12, 1930 Board of Trustees Executive Committee meeting. The Executive Committee's meeting minutes contain this brief note about the matter: "The President brought up the question of naming buildings on the two campuses and submitted a tentative list of names. The Committee approved the list of names suggested."
A list of possible building names submitted by President William P. Few to the Executive Committee can be found in Few's records. It's not clear if this is the final list or a draft version.
About a month after the Executive Committee meeting, President Few presented the names of the buildings to the rest of the campus community in a speech. The October 1930 Alumni Register (Duke Magazine's predecessor) carried an article about the buildings' new names.
Do we know why President Few and the trustees chose to name a building for Carr?
President Few's records contain several documents bearing the text for commemorative tablets he hoped to install in each of the newly-named buildings. The tablets, which were never created, would offer the reasoning behind each building's name. The document for Carr Building states that the building was named "in memory of Julian S. Carr, who gave the land on which these buildings stand."
Why do some people object to the Carr name on a Duke building?
Carr made a number of public speeches and statements advocating white supremacy. Carr, a committed Democrat, ran for a senate seat in 1900. At that time in North Carolina, the Democratic party spoke out strongly against what they termed "negro domination." In a document declaring his candidacy, he made reference to the 1898 defeat of the African American-supported Republican party in North Carolina: "In the recent election—the great uprising of Anglo-Saxon manhood, we achieved a notable victory." Speaking in June 1913 at the dedication of the "Silent Sam" confederate monument at UNC, Carr remarked that Confederate soldiers had "saved the very life of the Anglo Saxon race in the South." He went on to proclaim that he had "horse-whipped a negro wench until her skirts hung in shreds" following the war because she had insulted a white woman. The Southern Historical Collection at UNC-Chapel HIll has digitized many of Carr's speeches, which address a number of subjects.
What else is named for Carr?
As far as the University Archives is aware, there are no other places on Duke's campus named for Carr. There is a Carr Building at the University of North Carolina at Chapel Hill, streets in Durham named for Carr, and, of course, the town of Carrboro is named for Carr. The Durham School of the Arts formerly had a Julian S. Carr building. In 2017 the name was removed by unanimous agreement of Durham School Board.
Learn more about Julian S. Carr:
Secondary Sources: 
Primary Sources:
Carr, Julian S. "Gen. J. S. Carr's letter to ex-Confederates. The old soldiers will not be disfranchised. Their rights are secure. Extravagence and corruption follow Negro rule." N.p., n.d. (link to Duke Libraries catalog record)
Carr, Julian S. "The Problem of the Hour: Will the Colored Race Save Itself from Ruin?: An Address Delivered before the Trustees, Faculty and Students of the North Carolina College of Agriculture and the Mechanic Arts, at Greensboro, May, 1899." Durham: Seeman Printery, 1899. (link to Duke Libraries catalog record)
Carr, Julian S. "Unveiling Bennett House Memorial, November 8th, 1923: Peace with Honor, Durham, N.C." Durham: Seeman Printery, [1923?]. (link to Duke Libraries catalog record; link to digitized copy)
Julian Shakespeare Carr Papers, 1880-1982, Rubenstein Library, Duke University (link to collection guide)
Julian Shakespeare Carr Papers, 1892-1923, Southern Historical Collection, UNC-Chapel Hill (link to collection guide)

The section of that collection containing texts from Julian Carr's many public addresses has been digitized, including the speech given at the 1913 dedication of the "Silent Sam" monument.

John Franklin Heitman Papers, 1863-1911, University Archives, Rubenstein Library, Duke University (link to collection guide)

Contains correspondence with Carr, primarily related to Carr's role on the Committee of Management in the 1880s.

John W. Alspaugh Papers, 1875-1898, University Archives, Rubenstein Library, Duke University (link to collection guide)

Contains correspondence with Carr, as both Alspaugh and Carr served on the Committee of Management in the 1880s.

William Preston Few Records and Papers, 1814 - 1971 and undated (bulk 1911-1940), University Archives, Rubenstein Library, Duke University (link to collection guide)

Few, President of Trinity College and then Duke University from 1910 to 1940, corresponded with Carr up until Carr's death in 1924. Few's correspondence records are voluminous; University Archives has a card file to assist in locating correspondence with Carr.