Completed: 1911
Architect: C. C. Hook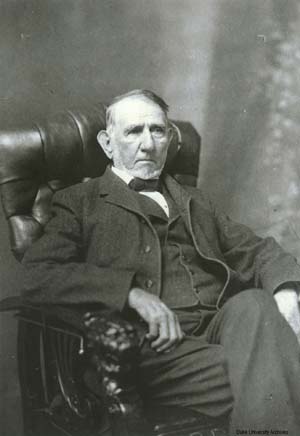 Washington Duke (1820-1905) was an Orange County native who made a fortune through his tobacco company, based out of Durham. At the age of sixty, Washington Duke retired from the business and devoted himself to his family, his church and the Republican Party. His civic-mindedness and love of the Methodist Church coalesced in 1890 with the successful campaign to persuade the Methodist-related Trinity College to relocate to the bustling city of Durham. Duke's offer of $85,000 and later donations totaling $300,000 for the College's endowment was part of a family philanthropic pattern that was continued by the entire Duke family and their scions. Washington Duke died on May 8th, 1905, and twenty years later, at the urging of President William P. Few, James B. Duke in 1924 agreed to rename the institution in honor of his father.
The West Duke Building was originally intended to be the east wing of a new and larger Washington Duke building, joined to the East Duke Building by a colonnade with a bell tower in the middle.  This two story building of white pressed brick and Indiana sandstone, roofed with green tile, is the complement of the East Duke building. The West Duke and East Duke buildings were originally intended to be joined by a colonnade with a bell tower in the middle. While East Duke was slated to be administrative space, West Duke was used primarily for classroom space and departmental and faculty offices. In its early days, the West Duke building included the campus bookstore, the barbershop, the post office, and, during World War I, a dining hall for the Student Army Training Corps. After 1930, when the Woman's College was established on East Campus, the West Duke building held at various times the Math, Education, Philosophy, and English departments. After 1935, the second floor housed J. B. Rhine's parapsychology laboratory. Duke University Press had an office in the building in the early 70s, and in 1980, the Computation Center had a terminal room in the basement. By 1995, the Angier B. Duke Scholarship Program and the Talent Identification Program had their offices in West Duke.

Related Resources:
Biographical Reference Collection - Contains biographical information on Washington Duke.
Building Reference Collection - Contains historical building information.
Washington Duke Historical Article - Article exploring the life of Washington Duke.