Your Library Card Number is your DukeCard Number. In order to enter it correctly, please refer to the detailed information below for the type of Duke ID you have:
---
Current Campus ID Cards: Use the DukeCard number, which is printed just below the barcode next to the words "DukeCard#", plus the issue number. You must enter all 10 digits.
Older Campus ID Cards: If there is no number below the barcode on your card, most likely the DukeCard number is the same as your Social Security Number (SSN). Enter your 9-digit Social Security Number.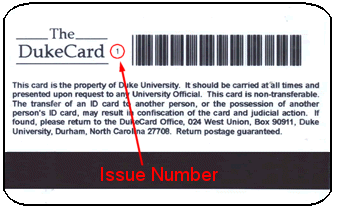 Medical Center & Health System ID Cards: Your DukeCard number is a combination of three numbers on the back of your ID card. The first is the "card prefix", located to left of the barcode (it should be a "9"). The second is your Unique ID number, located just below the barcode. This number is generated internally by Duke, and is sometimes referred to as your "employee number". The third number, your issue number (usually "0" followed by another single digit), is located just below the DukeCard logo in the upper right hand corner of the card. To arrive at your DukeCard number, simply combine these numbers in the order listed above. Make sure you use both digits of the "issue number", rather than just the first as is shown in the picture. For the card pictured below, the correct number would be "9765432101".
Medical Center Student ID: Like the current campus ID cards, your DukeCard number is printed just below the barcode next to the words: "DukeCard #". Note: If you are a student who has both a campus and a Medical Center ID you should look on the back of your campus ID to find your DukeCard number. The back of your Medical Center ID should read "FOR IDENTIFICATION ONLY", as it is not an "active" card and contains no encoded information.
Public User Library Cards (Gold & White Cards): Use the Library Card number, which is the barcode sticker on the back of the card. The barcode begins with two (2)letters, followed by six (6) digits, optionally followed by a letter or special character. Use the entire barcode number.  Re-enter the same barcode number for your password.