The Rubenstein Library can make reproductions from our collections for research or publication, even if you aren't able to visit our library in person.
You need to have an online researcher account to request reproductions. You don't need to be affiliated with Duke University to have an account.
Please be as specific as possible with your request, requests are limited to 250 scans. If you need help identifying material, get in touch first and a librarian will assist you.
All reproduction orders may incur a fee, which is based on the type of material and the reproduction quality requested. You will be able to pay online with a Mastercard or Visa.  Or via check by mail.  If you have questions about pricing for reproductions please contact RL-repro@duke.edu. 
Most reproductions are delivered 8 to 10 weeks after you have submitted payment.
See Making a Reading Room Reproduction Request if you want to request a reproduction of material you have previously used in the reading room.
Placing your reproduction request
You can begin the process from the collection guide or the catalog record for the item you want to have reproduced:
From a collection guide:

Click the "Request" button on the left:

From a catalog record:

Click the "Request" button in the top right:

You will see a list of all the items in the collection. Select the box or volume the material you want to have reproduced is in, and click the "Request" button. If you want to request reproductions from multiple volumes or boxes, you'll need to make a separate request for each: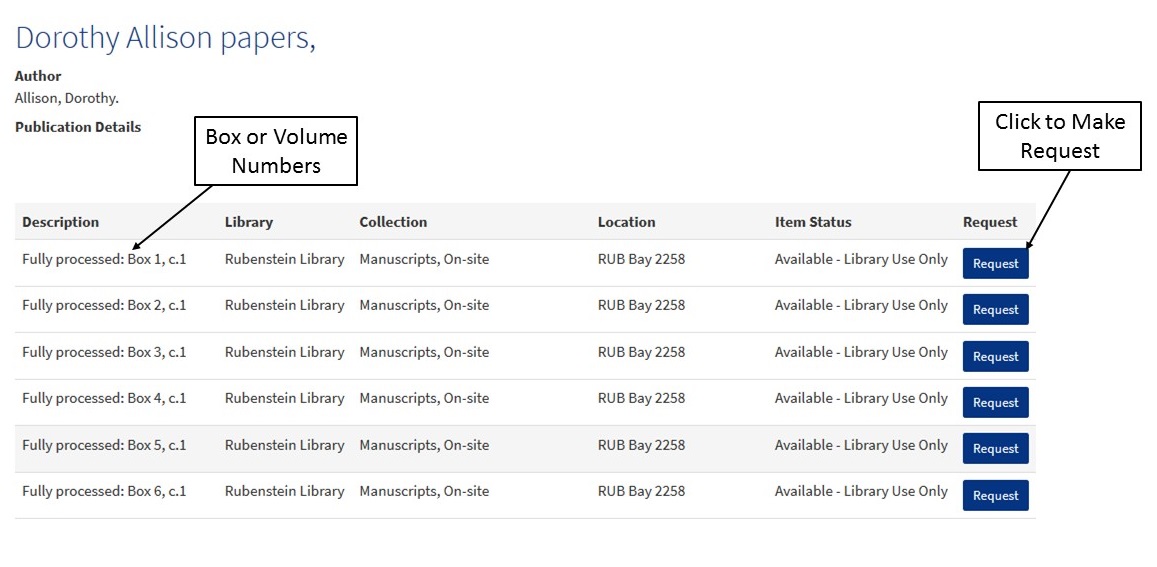 You'll be asked to sign in, and then you'll see a request form with two options. The top option, Option 1, is for ordering a digital copy. Click the blue "Start a Digital Copy" button. 



This will take you to the Reproduction Request Form. To complete the reproduction request, fill out the Reproduction Details and Copyright Agreement/Terms of Use portions at the bottom of the form.
For Reproduction Details, complete the following fields:
Describe your request: Describe the specific material you want reproduced, including folder titles, page numbers, captions, or descriptions of images. Be as specific as possible. If you're not sure where relevant material may be located, get in touch first and a librarian can assist you.
Format: Select the reproduction format you require. Please note that the Rubenstein Library only provides digital copies.
For publication: Please check the For Publication box in your reproduction order if you plan to publish the reproduction.  If you plan on publishing Duke copyrighted material, you will need to submit a permission request form.
Special Requests/Questions: Include any additional information about your order for reproduction staff.
If you have previously been in contact with a Rubenstein staff member about your request, please check the box and select the name of the staff member. 
For Copyright Agreement and Terms of Use, read the notice and check the three boxes below it to acknowledge that you have received a notice of copyright restrictions. If you are requesting additional permissions for collections to which the copyright interests have been transferred to Duke University, please submit a Permissions Request Form. For more information on copyright, please visit our Citations, Permissions & Copyright page.
When the form is complete, click "Submit Request" at the bottom.
Your request is now submitted, and staff will review your request and contact you if any additional information is needed. Once the order has been confirmed with a staff member, we will send you an invoice with instructions on how to submit your payment online. Most reproduction requests are delivered 8 to 10 weeks after you have submitted payment.
After the request is submitted, you can go to your Rubenstein Library account to check the status of your order.