What can your Residence Hall Librarian do for you?
Keep you informed with periodic e-mail messages highlighting resources and programs, like study breaks and extended Library hours during exam weeks
Answer your questions about Library services, like borrowing technology, citing sources, and requesting materials from other libraries
Assist you with your research assignments by helping you identify the best sources and formulate search strategies
Connect you with library specialists across all subject areas
Support you even when you're not on campus—for example if you're on break
Help you when you don't know where to start or can't think of what to do next!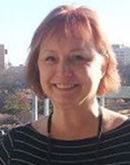 Librarian for Classics
E-mail: greta.boers@duke.edu
Phone: 919.660.5864
Mailbox: Box 90725 Durham, NC 27708-0175
---
Greta is Librarian for Classical Studies and works Lilly Library. She started her career in libraries over thirty years ago as a student assistant her freshman year; she hasn't stopped loving the profession since. Her favorite part of the job is working with students and discovering what holds their curiosity at any given moment. Her conviction is that creative responses to your academic work hold the most promise for the future. It's creativity, well-grounded in scholarly information which leads to new research, new discoveries, and new solutions to the world's problems.
Greta is a polyglot and has led an international life. She has lived in Germany, France and South Africa in addition to the United States. Her hobbies include textiles, gardening and collecting vintage clothes. She has thousands of pets: three cats and two colonies of bees.