What can your Residence Hall Librarian do for you?
Keep you informed with periodic e-mail messages highlighting resources and programs, like study breaks and extended Library hours during exam weeks
Answer your questions about Library services, like borrowing technology, citing sources, and requesting materials from other libraries
Assist you with your research assignments by helping you identify the best sources and formulate search strategies
Connect you with library specialists across all subject areas
Support you even when you're not on campus—for example if you're on break
Help you when you don't know where to start or can't think of what to do next!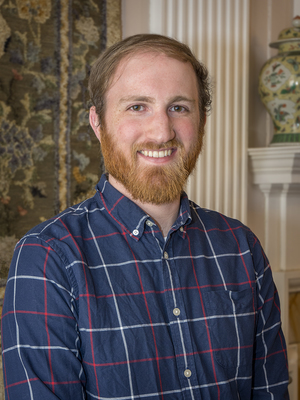 Evening Reference Librarian and Supervisor
E-mail: ira.king@duke.edu
Phone: 919.660.9465
---
Ira King is the Evening Reference Librarian & Supervisor at Lilly Library, since September 2016. You can find Ira in the lobby of Lilly Library Sunday through Thursday from 6 to midnight. He is the go-to person for research assistance in the evening on East Campus, and is always happy to help students with any research or library questions they may have. If you're chatting with a librarian after 6 pm, there's a solid chance you're chatting with Ira. 
Ira was born in Germany on a military base, and grew up in a small town in Southeast Missouri along the Mississippi River. He went to college at Truman State University (B.A. in History and English), and received his MSLIS from the University of Illinois at Urbana-Champaign in May 2015. In his free time he enjoys NBA basketball, the St. Louis Cardinals, going to concerts in the Triangle, and exploring the mountains and coastal areas of North Carolina. Ira lives in Chapel Hill with his girlfriend and dog.