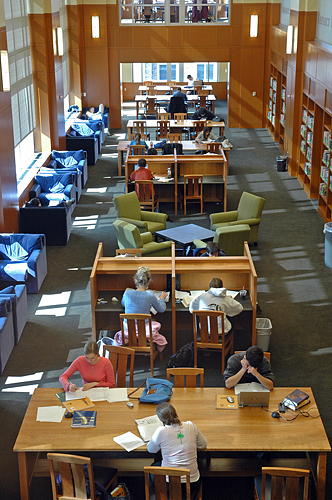 Due to the COVID-19 pandemic we are pausing the Undergraduate Advisory Board for the 2020-21 academic year. Instead the libraries are creating a Student Experience Panel where students will be contacted about opportunities to participate in focus groups and usability studies. If you are interested in joining the Student Experience Panel, fill out the sign-up form .
You can improve the learning and research environment for Duke undergraduates and gain experience as a member of a selective advisory board for a large, nationally recognized non-profit organization.
How can I get involved?
Serve on the Duke University Libraries Undergraduate Advisory Board!
The Undergraduate Advisory Board meets three times each semester and advises library staff on all aspects of Duke University Libraries. Topics include study spaces and group study rooms, equipment for students to  use in the Libraries, developing innovative services, and marketing existing services.  Meetings include lunch or dinner, depending on the time we meet.
This board includes sophomores, juniors and seniors. (The First-Year Advisory Board is composed of first-year students.)
Interested in learning more?
While the UAB will not be active for the 2020-2021 academic year, you can contact Angela Zoss with any questions.