The Franklin Research Center hosts a number of events throughout the academic year focused on African and African-American history and culture. Events are free and open to the public unless noted otherwise.
News and Events
---
UPCOMING EVENTS:
Arch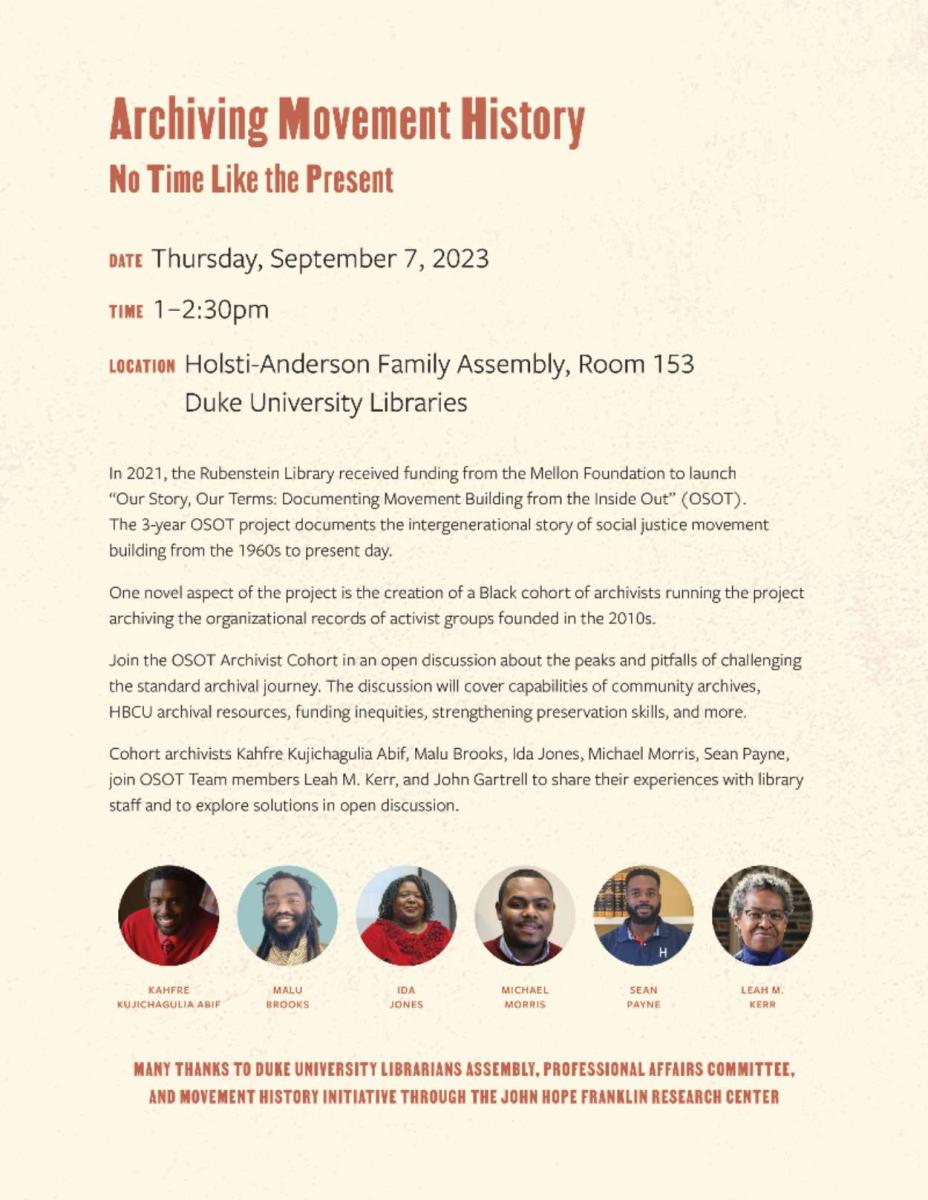 iving Movement History: No Time Like the Present
Date: September 7, 2023
Time: 1:00-2:30pm
Location: Holsti-Anderson Family Assembly Room, 153, Rubenstein Library
Join the OSOT Archivist Cohort for an open discussion about the peaks and pitfalls of challenging the standard archival journey. 
HBCUs and Movement Leadership: A Dialogue with Today's Activists, Organizers and Social Justice Ignitors
Date: September 7, 2023
Time: 6:00-8:00pm
Location: Miller-Morgan Building Auditorium, North Carolina Central University, 500 Nelson Street, Durham, NC 27707
---
Past Events
I Got a Story to Tell: Black Lives in Print 2.0
Date: Monday, April 3, 2023
Time: 11:00am - 2:00pm
Location: Gothic Reading Room, Rubenstein Library
Please join us for our second Black Lives in Archive Day! This one-day only exhibition allows visitors to browse selections from the library's collections, chat with library staff, and explore Black authored primary source materials. From rare first editions by Sojourner Truth to published works exploring Black life in Durham to publications by Black students at Duke, the event will give attendees a hands-on experience with the richness of Black print culture!
Behind the Veil at 30: Reflections on Chronicling African American Life in the Jim Crow South
Virtual zoom-based conference
March 6 and 7, 2023
This virtual conference will gather the interviewers and project staff of the Behind the Veil project, conducted in the 1990s, to discuss their experiences capturing the stories of African Americans who lived in the US South during the Jim Crow Era. There will also be conversation from scholars who have recently used the Behind the Veil archive for their research and sharing the lessons learned from the interviews.
To register:
March 6 – 12:00-3:00pm (ET) – https://duke.zoom.us/webinar/register/WN_7OX6-OrASZiXD3XwvwxmIg
 March 7 – 2:00-3:30pm (ET) - https://duke.zoom.us/webinar/register/WN_5b3aNCBZTKaTciB_tqT-uA
The Behind the Veil oral history project, which contains over 1,000 interviews and 1,500 images is archived in the John Hope Franklin Research Center at the David M. Rubenstein Rare Book & Manuscript Library. Duke University Libraries received a grant in 2021 to digitize and publish the archive in the Duke Digital Repository with the support of the National Endowment for the Humanities.
Any views, findings, conclusions or recommendations expressed in the this conference do not necessarily represent those of the National Endowment for the Humanities.
---
September 14, 2021 - "Visualizing a Shared Ethos: Van Der Zee and Blake as Peers"
A lecture by Dr. Emilie Boone, Assistant Professor of African American Studies at New York City College of Technology, CUNY. A scholar of art and visual culture of the African Diaspora with a focus on photograph, Boone's lecture responds to the exhibition, "James Van Der Zee and Michael Francis Blake: Picturing Blackness in the 1920s" displayed in the David M. Rubenstein Rare Book & Manuscript Library.
Black Lives in Archives Speaker Series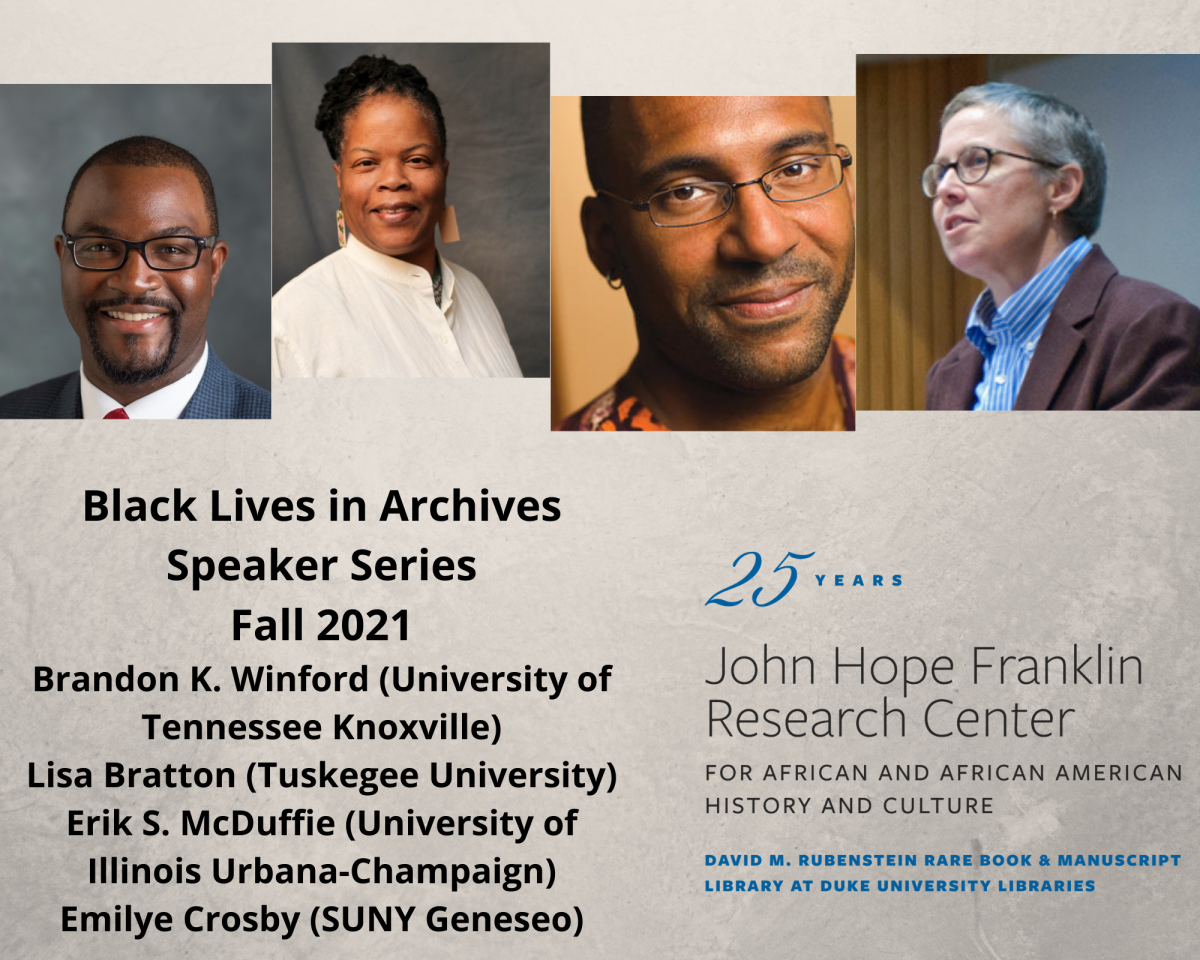 Black Lives in Archives virtual speaker series featuring four scholars who were previously awarded research travel grants to come to the Rubenstein Library and utilize the center's collections. This "return to the archive" by each scholar will highlight the critical importance of Black collections as a foundation for new directions in the field of African and African American Studies.
September 22, 2021 - "Our Good Fortune: Black Banking and Business in Archives."
Brandon K. Winford, Professor of History, Univesity of Tennessee Knoxville. Winford is a past recipient of a John Hope Franklin Research Center travel grant in 2015-2016. 
October 27, 2021 - "Finding Gold About Green: Discoveries About Green Bratton of Historic Brattonsville at the Franklin Research Center"
Dr. Lisa Bratton, Tuskegee University. Bratton was a 2017-2018 Franklin Research Center Travel Grant recipient. 
November 9, 2021 - "Your Petition is an Instrument Which Pisporves The Claim That The Negro Does Not Wish a Nation of His Own..."
Erik S. McDuffie, University of Illinois Urbana-Champaign. McDuffie was a 2016-2017 Franklin Research Center Travel Grant award recipient.
Wednesday, December 8, 2021 - Finding SNCC Women in the Archives
Dr. Emilye Crosby, SUNY Geneseo

Tuesday, January 25, 2022 - Black Lives in the Archives Roundtable 

---
Developing a Historical Biography and the Vital Importance of Black History Archives
February 23, 2021
NEWS
March 21, 2018 - Putting SNCC Veterans into the Civil Rights Era Spotlight from Duke Today
April 14, 2015 - Duke Partners with SNCC Activists on Civil Rights Website from Duke Today